Jeunesse And Founder Wendy Lewis Garner Gold In Women World Awards
June 13, 2017
By Team Business For Home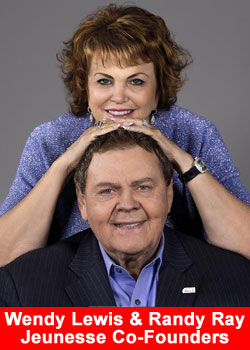 Jeunesse Founder and Chief Operations Officer Wendy Lewis has been highly honored for a second year in a row in the 2017 Women World Awards, receiving three Gold awards.
Lewis was honored with Gold awards for:
Female Entrepreneur of the Year
Woman of the Year – Lifetime Achievement
Champion of the Year
As a lifelong entrepreneur, Lewis has enjoyed a long and successful career, earning a multitude of awards and accolades. Jeunesse, the global company Lewis founded with her husband Randy Ray, marks the pinnacle of her professional success to date.
As an active Founder and COO, Wendy has helped lead Jeunesse through extraordinary growth since its inception in 2009.
The company has ranked among the Inc. 500/5000 fastest-growing private companies in America for the past three years, and now ranks among the largest direct selling companies in the world. This growth earned Jeunesse a Gold award for Company of the Year — Company Growth in this year's competition.
"I am deeply honored to be recognized in the Women World Awards and applaud the competition for recognizing successful women in business around the world. I hope any success I've achieved serves as inspiration to those who aspire to achieve their own success,"
said Lewis.
The coveted Women World Awards is an annual industry and peer recognition program honoring women in business and organizations of all types and sizes in North America, Europe, the Middle East, Africa, Asia-Pacific and Latin America.
The program encompasses the world's best in leadership, innovation, organizational performance, new products and services, and milestones from every major industry in the world.
Winners will be honored Monday, June 26, in San Francisco at the annual SVUS Red Carpet Awards Ceremony Dinner.
About Jeunesse
Jeunesse is a global direct selling company with a mission to positively impact the world by helping people look and feel young, while empowering them to unleash their potential.
The company's exclusive skin care and nutritional products form a comprehensive Youth Enhancement System.
With multilingual customer service, back office support and a global enrollment system, Jeunesse utilizes a cutting-edge platform to share innovative products, training and support through 32 fully operational offices to markets in over 130 countries. Learn more at jeunesseglobal.com.