Zija Launches 10 New Products At Regional Events
June 29, 2017
By Team Business For Home International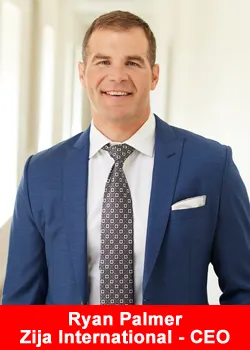 Zija International recently held two hugely successful Life Unlimited Regional Events in Orlando, Florida, and Las Vegas, Nevada.
With exciting new announcements made and promotions launched, the events worked on bringing together Zija's two recent additions of network marketing giants Qivana and XANGO.
However, the largest announcement, was the company's reveal of 10 new products: Core Moringa Plant Protein Bar, GenM Arctic Cool Comfort Cream, GenM Body Block All-Natural Deodorant, GenM Surge Breath Mints, Améo Spearmint Essential Oil, Améo Lime Essential Oil, Améo Cedarwood Essential Oil, Améo German Chamomile Essential Oil, Ripstix Supplements Hydrate Glacier, and Ripstix Supplements Hydrate Pomegranate. Learn more about the new Zija products below!
Core Moringa Plant Protein Bar 
Key ingredients: Moringa blend, cacao beans, quinoa crisps and other natural ingredients. Available for pre-order Period 116.
High-quality plant protein sources like Moringa protein, pumpkin seed protein, pea protein, brown rice protein, and peanut flour protein
Only 4g. of sugar
Contains 3g. of fiber
GenM Arctic Cool Comfort Cream 
Your go-to, family-friendly product to help ease and relax sore, overused muscles.
Temporarily relieve sore muscles
Dual actions—cooling and warming
Enhanced with soothing essential oils
Ideal for men, women and children
Body Block All-Natural Deodorant 
Activated charcoal, witch hazel, and baking soda provide transparent and effective odor protection—without harmful parabens, artificial preservatives, and aluminum.
Keeps skin fresh and cool all day
Glides on skin smoothly without residue
Ideal for both men and women
GenM Surge Breath Mints
A healthy alternative to freshen breath with the power of essential oils and Moringa. A soothing mint experience that protects teeth and improves breath odor, naturally.
Sugar-free, healthy alternative breath mints
Proprietary Améo Essential Oil Blend provides a crisp and refreshing flavor, naturally
Great taste with 3 natural sugar alternative ingredients
Améo Spearmint Essential Oil
Améo Spearmint energizes the mind and body and can boost the mood of its users. When taken internally, Spearmint essential oil promotes a healthy digestive system and can aid in stomach discomfort.
Low menthol level that can be used safely with children
Soothes airways and promotes respiratory health
Uplifts the mind and helps to ease minor tension
Améo Lime Essential Oil 
The steam distilled Améo Lime is highly motivating and safe to use in skincare products. This essential oils aids in controlling oily skin and provides a vivid, sweet, and beautifully bright citrus aromatic experience.
Distilled from yellow, ripe lime peels
Revitalizes skin and aids in minor skin impurities
Promotes calmness, restores energy, and helps maintain focus
Atlas Cedarwood Essential Oil 
Améo Atlas Cedarwood has a grounding aroma that helps ease stress and promotes overall wellness of body and mind. This essential oil is used in many cosmetic products and has a powerful aroma often used in perfumes and air purifiers.
Ancient Egyptians were believed to have used Cedarwood oil for cosmetic and medicinal purposes
When used aromatically, the essential oil calms and soothes nervous tension
German Chamomile Essential Oil 
German Chamomile has a striking blue color that is paired with a gentle and sweet aroma. German chamomile is regarded as one of the oldest herbs used in history for medicinal purposes.
Aromatic and topical uses support normal respiratory health
Supports normal immune system function
Ancient Egyptians valued chamomile for its many therapeutic properties
Ripstix Supplements Hydrate – Pomegranate & Glacier 
Ripstix Hydrate tastes great, replenishes essential electrolytes lost through regular and physical activity, and is safe for all ages.
ABOUT ZIJA INTERNATIONAL
Zija International, a privately held and privately-funded business founded by Kenneth E. Brailsford and led by President and CEO, Ryan Palmer, develops natural health, wellness, and beauty products. The company operates in more than 50 countries worldwide, pioneering the #NaturalHealthRevolution to help individuals achieve Life Unlimited.
Zija has seen consistent growth every year since it was founded over a decade and has received several awards, including and being named the "Fastest-Growing Company in Utah" by Utah Business Magazine. It has also been recognized on fastest-growing and top-revenue lists by Inc. Magazine, Direct Selling News and Utah Valley Magazine, and has received industry-specific MarComm, American Business (Stevies), and Davey Awards.