Anna Woodward Achieves Highest Rank At Modere
July 15, 2017
By Team Business For Home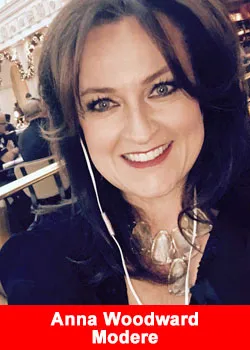 Modere Social Marketer and Platinum Elite 3, Anna Woodward, is creating a strong foundation and team at Modere – a Triple A classified opportunity by Business For Home.
Before Modere, though, Anna found success multiple times over the last decade in the Network Marketing industry, and while she enjoyed working with others and building a global team, she found success doesn't always bring fulfillment.
"Experience has taught me that financial success doesn't guarantee happiness if you don't believe in your opportunity. I believe people must ask themselves – is what they're doing making a difference for others and would their families be proud of how they are creating success with their business?
As a Social Marketer with Modere, I can answer 'yes' to this! I've learned that when I feel at peace and aligned with my 'Why', the success follows. Modere has been a blessing for me. It's given me hope in the industry again."
Gold Elite 3, Justin Prince, praised Anna not just for her success, but her ability to put together a profitable team in such a short amount of time.
"Anna has some remarkable passion for the company and the products. She understands the fundamentals of building a successful team and customer base. Her leadership is unparalleled—she's creating a wealth of opportunities for her and her team."
According to Anna, she loves Modere because they've created an environment where the average person, from day one, can play to their strengths as soon as they join.
Modere created an opportunity for Social Marketers to make residual income while customers can take advantage of the generous sharing program.
"In less than six month, my team generated well over 17,000 real customers. We celebrated hundreds of promoter ranks—some were people who were doing this for the very first time.
The bottom line is anyone can do this. We are promoting more Elite-level Social Marketers than ever before and their businesses are already in residual mode. This is the shift the industry needs and I'm proud to help lead the way with Modere and their Social Retail model."
In addition to the compensation plan, Anna praised the culture of Modere saying, "It's rare to find a company with so much talent, yet a desire to be the change the industry needs. Egos are checked at the door. They strive to serve the needs of their customers and Social Marketers. It's a peaceful environment to build as an entrepreneur."
Anna found Modere after looking for paraben-free products. Due to a medical diagnosis, she became aware of the toxins the body can absorb from products anyone can buy from the shelves.
"Safety is Modere's first priority—it's their legacy—and this gives me peace of mind. The added benefit is that Modere's products perform well and that makes me a dedicated a consumer for life!"
About Modere
Modere offers a category-leading portfolio of live-clean lifestyle essentials including beauty and personal care, health and wellness, and household products that are equal parts safe, high-performing, and beautifully designed.
At Modere, we create more than just products; we create meaningful experiences. We believe modern health involves living clean: pure nutrition, a clean environment and safe ingredients across multiple product categories: nutrition, weight loss, personal care, anti-aging skin care, and household care.
Modere brings a holistic approach to well-being and its products reflect a commitment to excellence and innovation, with tested formulas proven around the globe for 30 years. Modere is headquartered in Springville, Utah and its Marketing Center of Excellence and Public Relations is located in Newport Beach, California. For more info please visit www.modere.com