FuXion Appoints Jeff Higginson As CEO International
July 19, 2017
By Team Business For Home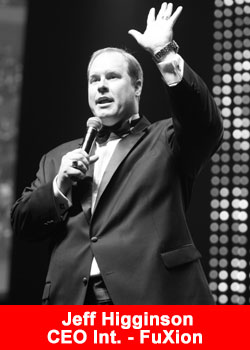 FuXion BioTech took its next step for rapid international expansion and growth by welcoming a new member to its executive team. Jeff Higginson, an experienced industry professional, will fill the newly created position of Chief Executive Officer International.
In announcing the move, FuXion CEO, President and Founder Álvaro Zuñiga Benavides said,
"We are now in a process of transformation, as we move from one of Latin America's strongest companies, into a true worldwide powerhouse.
Jeff brings the talent, experience, and passion to help us continue our growth in South and Central America – and develop the United States, Europe and Asia.
Higginson said,
"The FuXion product line meets the needs of millions of people and I'm excited to join the team taking the FuXion movement around the world.
Most recently Higginson worked with Agel Enterprises. He began with Agel as Director of Sales and Marketing during its initial launch, overseeing one of the most unprecedented and aggressive international expansions in network marketing history. In March, 2010, Higginson was named Co-CEO. Jeff was a finalist in the "40 under 40" fastest growing companies award.
Fuxion is a South American company founded in 2006. The company is disrupting the beverage industry, offering an all-natural line of coffees, teas, and other drinks. FuXion drinks have no sugar, preservatives, artificial sweeteners or GMOs.
The decision was announced at Alumbra 2017, the company's annual convention, where thousands of team members are packed in the Roberto Duran Arena in Panama.
For more information please visit www.fuxion.com