LegalShield Adds A New Record
July 6, 2017
By Team Business For Home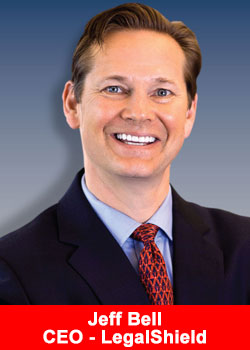 LegalShield, one of North America's leading providers of affordable legal plans and the IDShield identity theft solution for individuals, families and small businesses, announced today that it has grown its membership base to exceed 1,651,000 members.
"Our increasing membership and low churn rate are the result of our dedication to constantly improving our products and customers' experience.
We are a '45-year-old start-up' that keeps pushing the boundaries of the innovative legal services industry,"
said CEO Jeff Bell.
"On top of that, the LegalShield family is expanding with more independent associates joining our ranks and making legal protection accessible to more Americans every day. We take great pride in our mission, and we're just getting started."
About LegalShield
A pioneer in the democratization of affordable access to legal protection, LegalShield is one of North America's leading providers of legal safeguards and protection against identity theft solutions for individuals, families and small businesses.
The 45-year-old company protects more than 1,651,000 individual, families and businesses through its legal plans, while IDShield provides identity protection to one million individuals. In addition, LegalShield and IDShield serve more than 141,000 businesses. Both legal and identity theft plans start as low as $20 per month.
LegalShield's legal plans provide access to attorneys with an average of 19 years of experience in areas such as family matters, estate planning, financial and business issues, consumer protection, tax, real estate, benefits disputes, and auto/driving issues.
Unlike other legal plans or do-it-yourself websites, LegalShield has dedicated law firms in 50 states and four provinces in Canada that members can call for help without having to worry about high hourly rates.
IDShield provides identity monitoring and restoration services and is the only identity theft protection company armed with a team of licensed private investigators on call to restore a member's identity.
For more information, visit www.LegalShield.com or www.IDShield.com.