Mary Kay Convention Expects 30,000 Attendees
July 22, 2017
By Team Business For Home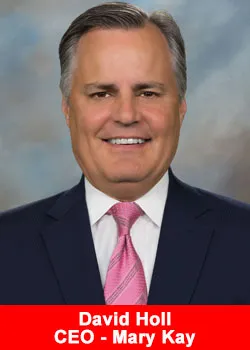 With a global portfolio of more than 1,300 patents for products, technologies and packaging designs, innovation leader Mary Kay announces a beauty industry first at the company's annual U.S. Seminar.
As nearly 30,000 Mary Kay Independent Beauty Consultants convene in Dallas, the global cosmetics powerhouse introduces a breakthrough in beauty technology, TimeWise® Vitamin C Activating Squares™.
Since the iconic beauty company was founded in 1963, Mary Kay Inc. has fostered a culture of creativity and innovation and invests millions of dollars in research and development. The company conducts hundreds of thousands of tests each year to ensure Mary Kay® products meet the highest standards of safety and performance.
"Mary Kay is on the front lines of innovation and we're excited to announce a beauty industry first in the form of our TimeWise® Vitamin C Activating Squares™ at our annual U.S. Seminar,"
said Dr. Lucy Gildea, Chief Scientific Officer for Mary Kay Inc.
"Pure vitamin C degrades and loses its power over time when exposed to air, light or water, but with the new Mary Kay® dissolvable vitamin C square, a serum is enhanced and boosted with a fresh, pure and potent vitamin C elixir. It's a revolutionary skin care innovation in the palm of your hand."
To date, more than 1,300 Mary Kay patents have been granted and in 2016 another 130 patents were awarded. The milestones validate Mary Kay's status as one of the top innovators in the direct selling and cosmetic industries.
Mary Kay Independent Beauty Consultants will get their first look at the newly launched innovations at the company's annual U.S. Seminar held July 20 through Aug. 4 at the Kay Bailey Hutchison Convention Center Dallas.  The convention, comprised of four back-to-back conferences, is one of the largest annual events in North Texas based on attendance, economic impact and hotel room nights.
"We love summers in Dallas because we get to welcome thousands of Mary Kay Independent Beauty Consultants from every corner of the country, as well as those traffic-stopping Mary Kay pink Cadillacs, who return to our hometown of Dallas for the company's annual Seminar," said Nathan Moore, President of Mary Kay's North America Region.
"As we celebrate the success of our Mary Kay entrepreneurs through recognition, education, inspiration and motivation for the year ahead, the event gives a generous boost to our local economy."
The Dallas Convention and Visitors Bureau estimates Seminar 2017 will pump $48 million into the North Texas economy and supports 4,665 jobs in the Dallas area.  The Kay Bailey Hutchison Convention Center has hosted nearly 1.2 million attendees for Mary Kay's Seminar since 1974.  During this year's event, approximately $5 million in recognition prizes will be awarded including the coveted Mary Kay pink Cadillac.
For more information about Mary Kay's company timeline, positive community impact, rewarding opportunity and irresistible products, click here.
About Mary Kay
At Mary Kay, success lies in our dedication to irresistible products, a rewarding opportunity and positive community impact.  For more than 53 years, Mary Kay has inspired women to achieve their entrepreneurial goals in nearly 40 countries.  As a multibillion-dollar company, we offer the latest in cutting-edge skin care, bold color cosmetics and fragrances. Discover more reasons to love Mary Kay at marykay.com