Paddy McCracken Achieves Highest Rank At Modere
July 18, 2017
By Team Business For Home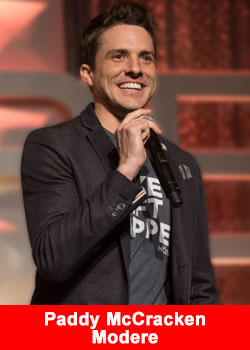 Modere,  a Triple A classified opportunity by Businessforhome.org, has promoted more Social Marketers to Elite rank in 2017 than ever before.
Paddy McCracken is one of these newest Elite 3s.
He believes in the innovative products, Modere's equitable compensation plan, and their approach where every single participant can make a positive impact to define their unique level of success.
Modere CEO, Robert Conlee, stated,
"We are proud to have Paddy part of our Modere family. His caliber of leadership will only strengthen us to bring in the same caliber of Social Marketers.
We continue to revolutionize and push the envelope and it's Social Marketers like him who will help us creating a long-lasting model."
It's no surprise Paddy has seen success in the industry. In a recent conversation, Paddy was asked about his time at Modere, how his life has changed, and what kind of opportunities Modere is creating for Social Marketers.
"Chances are, you're reading this on a tablet or your smartphone. I would bet you've liked, commented, tagged, or shared some type of media with your social network. Now, what if you could do that and still get paid?
Imagine sharing safe, stylish, smart, everyday essential products that actually make a difference in people's lives. Now, picture doing it with a group of people who have experience in sharing quality products, acquiring new customers and developing teams of other Social Marketers to do the same.
The Network Marketing industry has always promoted building a business from home but through face-to-face appointments and home parties.
These can be effective, but Modere is disrupting how people make money at home called Social Retail.
With Modere, we simply have to share our products, the opportunity, and the results through social media and webinars."
Paddy and his team have fallen in love with Modere's products, and their passion shows when you look at how fast the team has grown. In their first six months, they attracted over 15,000 customers, generating an incredible amount in team sales.
"We found live clean products we are passionate about because we feel better, look better and are living better. We are excited to share them with family and friends. We like to say we are "Moderizing" our homes," said Paddy.
With more educated consumers, it has been incredibly motivating to be able to enroll on average 10 customers for every Social Marketer. We have people on the team earning more than ever before on less volume. It's extraordinary!"
One thing Paddy spoke to when asked about working with Modere was the overall improvement of life as he works from home. To him, health and wellness were always an important aspect—but it wasn't just the products that were giving him an overall healthier approach to life.
"In the past, I would be in a different city and state at least 10 nights a month, including 10 plus nights in my local market speaking at live events and parties.
With Modere, I'm home almost 90% of my time."
To build a successful business without constantly being on the road away from his family allows for better nutrition, sleep and quality time with his wife, Desiree. Modere has provided Paddy and his team a place where they can make a living from the comfort of their homes.
So what else is there to love about the company? For Paddy, the integrity of the leadership spoke volumes.
"I love the honesty, communication, and leadership of the executive team in Utah. We all share the same vision and they respect us as Social Marketers. Transparency is key and they support us in ways I've never seen before. "
Paddy McCracken is building a successful business of products he believes in with a team who respects the leadership he provides. To anyone looking for the right opportunity, Paddy says there's no better time than now.
"If you enjoy being challenged, rewarded, recognized, promoted and paid well for your actions and efforts as well as your talents and strengths, Modere can truly be your home, your future."
Perfect words that sum up what it means to be a Social Marketer at Modere.
About Modere
Modere offers a category-leading portfolio of live-clean lifestyle essentials including beauty and personal care, health and wellness, and household products that are equal parts safe, high-performing, and beautifully designed.
At Modere, we create more than just products; we create meaningful experiences. We believe modern health involves living clean: pure nutrition, a clean environment and safe ingredients across multiple product categories: nutrition, weight loss, personal care, anti-aging skin care, and household care.
Modere brings a holistic approach to well-being and its products reflect a commitment to excellence and innovation, with tested formulas proven around the globe for 30 years. Modere is headquartered in Springville, Utah and its Marketing Center of Excellence and Public Relations is located in Newport Beach, California. For more info please visit www.modere.com