Rick and Michelle Teague Achieve Highest Rank At Modere
July 13, 2017
By Team Business For Home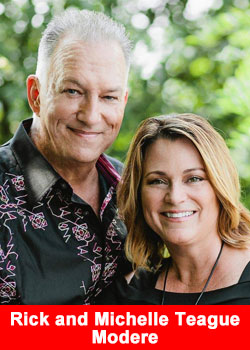 Modere Social Marketers, Rick and Michelle Teague, are two of the company's newest Elite 3's which is the highest rank the company offers.
The Teagues have been in the Network Marketing industry for over 33 years, and have trained well over 1 million distributors and generated estimated team lifetime earnings of over $100 million. They're also Top 250 all-time earners in Network Marketing according to Businessforhome.org with career earnings of eight figures.
With all this experience, one couldn't help but wonder what it was that brought the Teagues to Modere?
"In 2013, Michelle and I were at a crossroads: Do we continue switching companies every few years or find our final company?" stated Rick Teague.
"We needed to break the pattern of insanity. In short, we were determined to find a company that would realistically enable us to leverage several years of hard work into a lifetime residual income stream, and Modere was that company hands down.
"Rick and Michelle are the epitome of consummate professionals in the network marketing industry," said Platinum Elite 3, Justin Prince.
"Rick is a master of strategy, trends and business cycles. Michelle has wisdom, patience, and a unique ability to truly serve people at their core."
Michelle Teague said, "We've been doing this for over 30 years and were searching for a true long industry term…and Modere was it.  In our experience, Modere is literally the company that allows our customers to be actual customers, without having to join the business opportunity just to get better pricing and other perks.
Also, we have a world-class home for Social Marketers who want to focus on sharing our products and earning money without having to recruit or build a team. At the end of the day, this company has given people who have never fully flourished in the industry a chance to live their dreams."
Since joining Modere, Rick and Michelle Teague have created another top-earning team. They continue to add onto their own wealth while helping the company enter a new phase of growth.
"It's incredible to see how the Teagues helped transform Modere these past few years," exclaimed Justin Serra, General Manager of Modere North America.
"They have had a huge influence on the industry over the years and we're glad they brought that influence to our company."
Network Marketing wasn't the first choice for Rick. He came into the industry with two law degrees and made the change because of the difference it made–specifically when it came to family, lifestyle and freedom.
When asked why he stepped away from the law he said, "Being a lawyer gave me a lot of opportunities and financial security, but very often they came at the expense of my marriage, family, and health. Now, we are in charge of our schedules and living our life by design. Spending time with family and traveling while still earning a great income–that's true success and freedom."
About Modere
Modere  offers a category-leading portfolio of live-clean lifestyle essentials including beauty and personal care, health and wellness, and household products that are equal parts safe, high-performing, and beautifully designed.
At Modere, we create more than just products; we create meaningful experiences. We believe modern health involves living clean: pure nutrition, a clean environment and safe ingredients across multiple product categories: nutrition, weight loss, personal care, anti-aging skin care, and household care.
Modere brings a holistic approach to well-being and its products reflect a commitment to excellence and innovation, with tested formulas proven around the globe for 30 years. Modere is headquartered in Springville, Utah and its Marketing Center of Excellence and Public Relations is located in Newport Beach, California. For more info please visit www.modere.com