Zilis Celebrates New Presidential Ambassadors
July 17, 2017
By Team Business For Home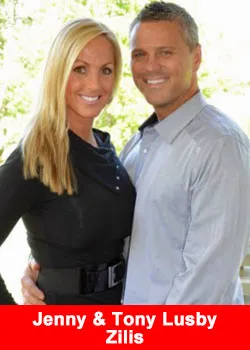 Zilis, the Pay It Forward Company, is celebrating the Presidential Ambassador promotion of Jenny and Tony Lusby.
At a recent event, hundreds of fellow independent distributors for the company rose to their feet to honor the accomplishment of this dynamic couple.
The achievement was reached in record breaking time, as the Lusby's have been with Zilis for less than one year.  Reaching Presidential demonstrates Jenny and Tony's dedicated to their team and to spreading the word about the Zilis concept nationwide.
"I have learned so much over the past 13 years in Direct Sales and when making our decision to join a company, we were looking for so much more than just a "great product or a great comp plan"!
We fell in love with the vision that Steven & Angie Thompson have of not only creating a platform similar to Amazon, but also the "Pay it Forward" nutrition program that is feeding malnourished children around the world with every purchase!
We are extremely grateful to be the early pioneers of this incredible company and look forward to taking this company around the world!"
Jenny Lusby, Zilis Presidential Ambassador
When asked what their next goal with Zilis is, it is clear the Lusby's are focused on achieving even higher accomplishments.  Zilis Founder & CEO Steven Thompson had this to say, "Jenny and Tony are two of the most dedicated and talented leaders in our industry.
Angie and I could not be more happy work alongside them in our mission to take the Zilis movement around the world." Chief Medical Officer Derrick DeSilva, M.D. states, "What Zilis is building is special and the Lusby's saw that from day one. I knew the moment I met them that they would build a large and successful organization. Congratulations!"
One thing is for sure, Zilis is on the move. The company anticipates many more major promotions such as this in the coming months.
About Zilis
Founded in 2015 by internationally recognized entrepreneurs Steven and Angie Thompson, Zilis is building an Amazon® like concept inside of a Direct Sales channel.  Unlike most direct sales companies that only offer one brand, Zilis offers top brands for every aspect of health and wellness.
In addition to making hundreds of the best wellness products available from one single source, Zilis makes a difference with every sale.  Each time a Zilis product is purchased, the company matches the sale by providing daily servings of Zilis Nutrition Packs for children in at-risk locations.
A company that takes compliance seriously, Zilis is proudly represented by the experts at Thompson-Burton. For more information please visit www.zilis.com