Amber DeLoof Achieves Platinum 2 Elite 3 Rank At Modere
August 23, 2017
By Team Business For Home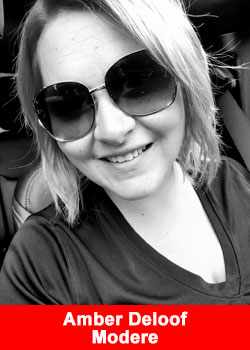 Platinum 2 Elite 3 Amber DeLoof, is no stranger to success in Network Marketing.
It's given her the opportunity to work from home, be with her children, and help provide for the family.
But since she joined Modere, – a Triple A classified opportunity by Business For Home – Amber maxed out the compensation plan without being bogged down with meetings or parties. Working from home actually means working from home and for Amber, it's made all the difference.
"I've always been blessed in this industry but Modere is different. I am even more present in lives of my children than ever before,"
Amber stated.
"Plus, when we joined the company, we were dealing adoption debt. Making minimum payments every month was tough.
It's since been completely paid off! We travel with our kids more, we're paying off more of our other debts quicker than before, and help numerous families bring their children home from China."
Amber's first real experience was with the products. She started by using the M3 System and even though she was a little skeptic, she was blown away by how effective the system was.
"It only took a few weeks before I was totally sold on the company," Amber said. "M3 and Liquid BioCell changed everything about my health and I would never go back. My family and I use Modere products around the home so we know they are good.
"And what happens when you have a testimony of the products? You turn that into a successful business! It speaks volumes for customers and potential Social Marketers. My team is growing because of our belief in the products. We are driven and excited."
Even if you take the products out of the equation, Amber says the duplication model is setup to help people succeed.
"We have three simple steps to guarantee duplication. When people follow the steps, add, tag, and message others, you can build a business.
What's great is people with no experience in the industry can make Modere work for them.
"If you come to me and say you've never done network marketing before or you've been very successful, it doesn't matter because I'll train you the same way. That's how this works. Duplication is king and that's how Social Marketers see the success they do. You follow the model and you can max out the sales side of the compensation plan."
Justin Serra, General Manager of Modere North America said, "
When you believe in the products like Amber has, it's only a matter of time till you succeed.
She's a true leader because she used her experiences to build quickly and efficiently and teaches others to do the same. She's a master of duplication!"
Before Modere, Amber found she was the only one who was "winning" on her team and that was unacceptable. She needed to find a place where anyone on her team from all walks of life could see the success she saw.
"It took one look at Modere to find exactly what I needed for me and my team."
About Modere
Modere offers a category-leading portfolio of live-clean lifestyle essentials including beauty and personal care, health and wellness, and household products that are equal parts safe, high-performing, and beautifully designed.
At Modere, we create more than just products; we create meaningful experiences. We believe modern health involves living clean: pure nutrition, a clean environment and safe ingredients across multiple product categories: nutrition, weight loss, personal care, anti-aging skin care, and household care.
Modere brings a holistic approach to well-being and its products reflect a commitment to excellence and innovation, with tested formulas proven around the globe for 30 years. Modere is headquartered in Springville, Utah and its Marketing Center of Excellence and Public Relations is located in Newport Beach, California. For more info please visit www.modere.com