Ivan And Elaina Sisco – World Global Network Achieves President Rank
August 28, 2017
By Team Business For Home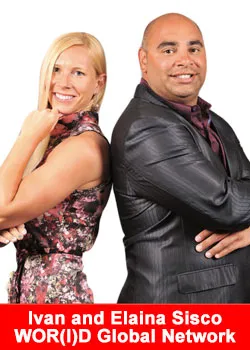 In record breaking time Ivan Sisco  and Elaina Sisco recently partnered with WORL(l)D Global Network and are the fastest President's out of Canada.
Prior to Network Marketing Ivan was a school teacher and Elaina was a Federal Government Correctional Officer.  They both new there is so much more to life, making it a priority to create an environment focused on their faith & raising their children.
Ivan has been in the industry full-time since 2000, working with some of the brightest minds, which has allowed us to learn from and build solid relationships with the best in the business.  He has traveled the world doing business, (speaking, coaching, training), in nearly 60 countries to tens of thousands of people.
Today Ivan & Elaina are stay at home parents to Brittany, Tyson & Kylee and have a philosophy of DOING LIFE!
"Our DO-LIFE philosophy is a lifestyle where life is meant to be lived, everyday instead of only on weekends and vacations. 
Doing Life is spending both quantity and quality time with the people you care about, it's working at something you love, it's stretching yourself to accomplish new goals, all while having fun & spending time with like-minded people."
Ivan Sisco states:
"We have known Nat & Chanida and Chad & Nattida for over 10 years and were watching there incredible success with WGN from a distance.
Over the last year friend after friend decided to launch with WGN also having significant success.   There is a very important lesson here, our minds are like parachutes they only work when they are open.  When our friend Mike Sims reached out to us back in Feb 2017 we simply were not open.
We watched him soar to the top of the company and finally we got frustrated in a good way to open up and take a look.  Within 24hrs of having conversations with Mike Sims & Chad and Nattida we new we had to be part of this movement.
Everything checked out.
The product is fresh, unique, a game changer with little to no competition.  We new this was a product for our entire family and understood the vision of how wearable technology is improving peoples lives.
The company is publicly traded which allows us to have ownership.  We assumed WGN was less than 2yrs old, however we were pleased to learn they were 5 yrs old debt free and doing business in 195 countries.  The outstanding results to date affirmed incredible leadership/management running the company.
The compensation plan is lucrative, simple to understand and teach which allows a part-time person to transition into a major builder.   They've gotten rid of all the hoops distributors need to jump through for qualifications.   This is very important to help others reach their goals.
The system is simple where we can build online, entirely from home is super refreshing and changing the way people do business in the future.
We officially launched August 8th, 2017 and are grateful to have our FIRE back.  We expect to break all of our previous milestones, working with and improving the lives of many around the world.  This is what we call DOING LIFE!
About WOR(l)D GN 
With an Headquarter in MIAMI, USA, WOR(l)D stands apart as a leader in the global markets of media, mobile and wearable technologies. In the 15 offices distrbuited in all the continents, WOR(l)D is employing the brightest minds and best professionals, constantly investing in great ideas and highly motivated people. Every WOR(l)D product reflects its passion for research, innovation and environmental responsibility.
WOR(l)D is a recognized as a leading player in the drive towards a more economically stable, socially connected world. Leveraging a new business paradigm, WOR(l)D seeks to transcend every social and economic boundary. Using innovative products and a proven, direct selling business model wor(l)d is helping people around the globe to transform their lives—and their livelihoods. For more information please visit www.worldgn.com