Nu Skin Q2 Revenue 8% Down To $550 Million
August 3, 2017
By Team Business For Home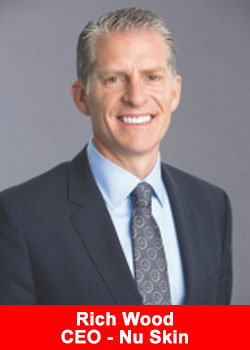 Nu Skin Enterprises, Inc. (NYSE: NUS) today announced second-quarter 2017 financial results. The Company reported second-quarter revenue of $550.1 million, which was at the high end of its outlook of $530 to $550 million, and earnings per share of $0.77, which exceeded its outlook of $0.65 to $0.70.
"We are pleased to deliver strong quarterly results as we implement our growth strategy,"
said Ritch Wood, chief executive officer.
"We believe our second-quarter results provide momentum we can build on as we prepare to introduce several new products and significant business initiatives in the fourth quarter. We remain focused on customer acquisition and are encouraged by our year-over-year customer growth.
Looking forward, we believe our product and business initiatives, coupled with our continued efforts to increase our customer base, will help support business and sales leader growth in the second half of the year."
"As we move into the second half of the year, we remain focused on executing our three key growth drivers – platforms, products and programs," said Wood.
"In the platforms area, we continue to drive social selling throughout our markets to expand our customer acquisition efforts.
To support this strategy, we will introduce several new products at our 'Nu Skin LIVE!' global distributor event in October, including our ageLOC LumiSpa device. Additionally, we will begin to introduce new and enhanced programs designed to more effectively reward our sales leaders to drive growth. The progress we are making with these initiatives gives us confidence in our future," Wood concluded.
"Given our strong second-quarter financial results, we are raising our full year 2017 earnings per share outlook to $3.20 to $3.30 and reiterating our annual revenue guidance of $2.26 to $2.30 billion," said Mark Lawrence, chief financial officer.
"For the third quarter we project revenue of $540 to $560 million and earnings per share of $0.71 to $0.76. Our new products and programs are planned for the fourth quarter with the primary focus around ageLOC LumiSpa, which we anticipate will generate approximately $100 million in sales," concluded Lawrence.
About Nu Skin Enterprises, Inc.
Founded more than 30 years ago, Nu Skin Enterprises, Inc. develops and distributes innovative consumer products, offering a comprehensive line of premium-quality beauty and wellness solutions. The company builds upon its scientific expertise in both skin care and nutrition to continually develop innovative product brands that include the Nu Skin® personal care brand, the Pharmanex® nutrition brand, and most recently, the ageLOC® anti-aging brand.
The ageLOC brand has generated a loyal following for such products as the ageLOC Youth nutritional supplement, the ageLOC Me® customized skin care system, as well as the ageLOC TR90® weight management and body shaping system.
Nu Skin sells its products through a global network of sales leaders in Asia, the Americas, Europe, Africa and the Pacific. As a long-standing member of direct selling associations globally, Nu Skin is committed to the industry's consumer guidelines that protect and support those who sell and purchase its products through the direct selling channel. Nu Skin is also traded on the New York Stock Exchange under the symbol "NUS."
More information is available at nuskin.com.