Total Life Changes And NuCerity International Announce A Joint Venture Partnership Between Companies
August 23, 2017
By Team Business For Home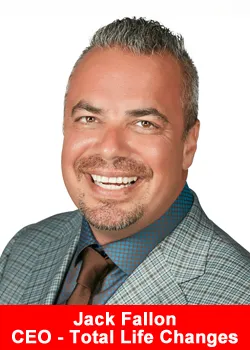 Total Life Changes (TLC) headquartered in Fair Haven, Michigan and NuCerity International located in Houston, Texas today announce a joint venture partnership between companies.
The purpose of this agreement is to capitalize on the strengths and synergies in product offerings and operating markets of both TLC and NuCerity.
TLC is a world leader in nutritional products. Their flagship product, Iaso® Tea is a 100% herbal detox tea that has been voted the No. 1 Global Direct Selling weight loss product in a recent survey.
NuCerity is a global leader in medical-based skin care. NuCerity's flagship product is Skincerity; the world's only masque with Breathable Barrier® technology which seals in the body's natural moisture to create healthy, younger looking skin.  It's been validated by numerous dermatologic research studies supported by the National Institutes of Health.

This partnership is a first in network marketing; two international companies, with combined sales approaching $250 million, coming together to market each other's branded products globally.
"Our core competency is skin care, TLC's core competency is health and wellness; by combining efforts we're able to offer "instant impact" products that already enjoy a track record of sales success and a history of documented results to our respective distributors and customers,"
stated NuCerity Founders, Lonnie McKinney and David Dillingham.
Both companies will maximize their synergies to benefit their independent business owners.  As TLC Founder Jack Fallon commented,
"Our shared goal is to provide each company's distributors an opportunity to expand their markets and create successful independent businesses built on product efficacy, synergy and expertise in the direct selling industry."
TLC's COO, John Licari added, "We share a passion for helping people succeed and are writing a new chapter for our organizations. We look forward to making history together."
About Nucerity International, Inc.

One of the fastest growing network marketing companies in the world, Nucerity International provides clinically tested and dermatologist recommended skincare products proven to prevent dehydration for radiant and youthful skin.
Based in Houston, Texas, Nucerity's scientifically-developed, anti-aging skincare and health and wellness products are sold by thousands of independent distributors in 16 markets around the world. For more information, please visit www.nucerity.com.
About Total Life Changes
Total Life Changes offers a diverse product portfolio of health, wellness and beauty products. Founder and "Tea" Executive Officer Jack Fallon created TLC over 16 years ago with a single product: NutraBurst®.
Since that time, TLC has continued to develop the Iaso® brand of products to include a diverse and attractive product portfolio matched with a hybrid binary compensation plan that allows Independent Business Owners of TLC to be rewarded quickly for introducing new customers to our products and business opportunity. For more information, please visit www.totallifechanges.com.