Wealth Generators Announces 13.4% Month Over Month Revenue Growth
August 23, 2017
By Team Business For Home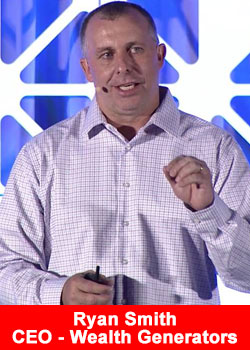 Financial fitness company, Wealth Generators LLC, wholly owned subsidiary of Investview (OTC PINK: INVU) announces continuation of International Expansion, translations and growth.
Investview's acquisition of Wealth Generators and associated transition period has been completed.
During this time, the company simultaneously experienced month over month revenue growth of 13.4% which the company attributes to increased new member sales in multiple countries:
Germany + 12.5%
Mexico + 11.3%
Guatemala + 21.4%
Australia + 8.8%
U.K. + 23%
In addition, the company is in the final stages of expansion into the Philippines and Colombia, with late stage planning for Canada, Japan and Turkey.
Translation of product services and content into Spanish, Portuguese, Russian, German, and Japanese is well under way with a large-scale plan for additional languages to be added.
Ryan Smith, CEO stated,
"Our program and comprehensive services that establish a strong foundation for personal financial growth is in great demand in many countries. It is our challenge to meet this demand and we are deploying significant resources to meet these needs."
About Wealth Generators
Wealth Generators provides financial technology, education, and research to individuals to enable them to "Find, Grow, and Keep" their money. We are best described as a financial fitness company providing our customers the tools and information that can improve their financial situation.
Wealth Generators products are distributed through a direct sales model. Our products are offered to individuals on a monthly subscription basis. Wealth Generators is classified as a publisher of financial research and information and exempt from securities registration. This is an exemption provided in the U.S. Securities Investment Advisers Act of 1940.
Wealth Generators is not a brokerage firm or Registered Investment Advisor. We do not execute trades or take possession of clients' brokerage accounts. Our customers may cancel their subscription at any time and execute trades at their own discretion. For more information please visit www.wealthgenerators.com
About Investview, Inc.
Investview, Inc. is a diversified financial technology organization. The Company operates primarily through its wholly- and majority-owned subsidiaries, to provide financial products and services to accredited investors, self-directed investors and select financial institutions. For more information please visit www.investview.com