World Global Network Flagship Product Helo LX Gained Massive Media Attention
August 3, 2017
By Team Business For Home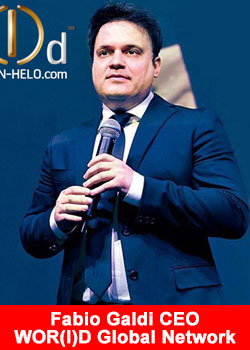 In the past few weeks, WOR(l)D Global Network – a Triple A classified opportunity by Business for Home –  has gained a lot of media attention for its innovative product, Helo LX.
First, the Today Show on CNBC featured Helo, including it among eight of the most ground-breaking gadgets to hit the market in the coming year.
Later, CBS highlighted a story showing how a Jacksonville family uses Helo to monitor the important bio-parameters of their autistic child.
After battling for weeks with other leading products in the Direct Sales industry,  Helo LX was voted as the #1 Product in Direct Selling. Out of all the products in the industry, Helo LX won 30 percent of the votes, an large percentage when you consider the number of products on the market.
About WOR(l)D GN
With an Headquarter in MIAMI, USA, WOR(l)D stands apart as a leader in the global markets of media, mobile and wearable technologies. In the 15 offices distrbuited in all the continents, WOR(l)D is employing the brightest minds and best professionals, constantly investing in great ideas and highly motivated people. Every WOR(l)D product reflects its passion for research, innovation and environmental responsibility.
WOR(l)D is a recognized as a leading player in the drive towards a more economically stable, socially connected world. Leveraging a new business paradigm, WOR(l)D seeks to transcend every social and economic boundary. Using innovative products and a proven, direct selling business model wor(l)d is helping people around the globe to transform their lives—and their livelihoods. For more information please visit www.worldgn.com