World Global Network Las Vegas Convention Expect Thousands
August 11, 2017
By Team Business For Home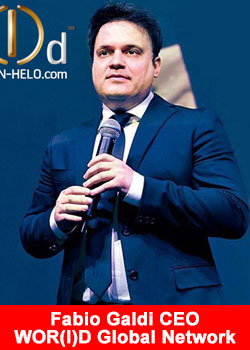 After the huge success of the International Convention held in Bangkok, May 27th, WOR(l)D Global Network is looking forward for a new exciting growth moment.
On October 21 and 22 in Las Vegas, thousands and thousands of other distributors from around the world will have the opportunity to take part in the next chapter of WOR(l)D history.
After two days of helpful training, exciting moments with the top leadership and top management, and inspirational interactions with the CEO Mr. Fabio Galdi, you will see the vision of this company and of the whole industry.
The location for this WOR(l)D event is the Convention Center in Las Vegas, the world's most desirable destination for leisure and business travel. More than 5000 peoples will wait for the news and the vision of the company that is changing the way to intend the Network Marketing, even closer to the Digital Marketing 2.0
Visit the worldgn.com website to get more info about the tickets and hotel accommodation.

About WOR(l)D GN
With an Headquarter in MIAMI, USA, WOR(l)D stands apart as a leader in the global markets of media, mobile and wearable technologies. In the 15 offices distrbuited in all the continents, WOR(l)D is employing the brightest minds and best professionals, constantly investing in great ideas and highly motivated people. Every WOR(l)D product reflects its passion for research, innovation and environmental responsibility.
WOR(l)D is a recognized as a leading player in the drive towards a more economically stable, socially connected world. Leveraging a new business paradigm, WOR(l)D seeks to transcend every social and economic boundary.
Using innovative products and a proven, direct selling business model wor(l)d is helping people around the globe to transform their lives—and their livelihoods. For more information please visit www.worldgn.com