Gold Canyon Appoints A.K. Khalil As CEO
September 14, 2017
By Team Business For Home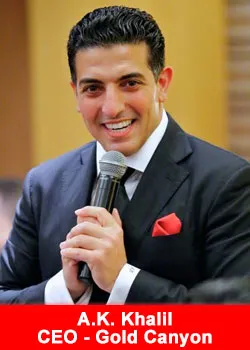 Gold Canyon International, LLC , the world's foremost expert on specialty fragranced products and styled accessories, announced today the appointment of its new President and CEO, A.K. Khalil.
A.K.'s appointment marks a strategic move by Gold Canyon's ownership to bring on an energetic change agent, a leader, and a visionary who has 18 years of hands-on experience as a distributor, consultant and corporate executive.
"If I had one word to describe A.K., it would be pure energy,"
said John Makoff, Gold Canyon's Managing Board Member.
"Within two minutes of being around him, you immediately begin to feel your energy and excitement being lifted. Couple that with his unique ability to create a clear vision for the future, and excellence in leadership, sales, training and marketing, and we believe Gold Canyon has literally struck gold."
A University of Michigan graduate, A.K. has spent the last five years serving as President of what was then an early stage direct selling company. With his strategic and tactical leadership, the company soon become a top 100 direct selling company with annual revenues exceeding 100 million.
A.K.'s ability to foster leadership, bring innovative technological solutions and expand a company's horizons into the international marketplace will be well suited for Gold Canyon.
"With enhancements planned for all areas of the business, Gold Canyon will soon be considered the gold standard in everything that we touch,"
says A.K. "Our goal is to revolutionize the way direct selling sells."
About Gold Canyon 

Founded in 1997, Gold Canyon International is a direct sales company offering an income opportunity centered around Friends, Fragrance & Fun!™ through scented candles, home décor and other scented products.
The company has a sales force of thousands of Independent Consultants across North America who deliver A Happy Fragrance Experience™ through home and catalog Parties, online shopping and Fundraisers.
The company is headquartered in Chandler, Arizona. More information about Gold Canyon is available online at goldcanyon.com.