Josh Paine Named CEO Of WorldVentures Holdings
September 23, 2017
By Team Business For Home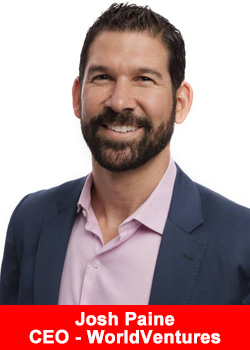 WorldVentures Holdings LLC , parent company of the travel industry's direct-sales leader — WorldVentures, a global vacation and lifestyle club — announces the appointment of Josh Paine as chief executive officer (CEO).
Josh will oversee day-to-day strategic and operational decisions, elevate the brand, strengthen the leadership team and enhance the overall growth of WorldVentures Holdings.
"Josh has a passion for instilling organizations with a strong sense of purpose while building an award-winning culture, making him a great asset to the team. We're excited to add his strong leadership to our Holdings level c-suite, so please join us in welcoming Josh Paine to our One Big Team,"
says WorldVentures' founder and chief visionary officer, Wayne Nugent.
Josh replaces Dan Stammen, who was the company's first CEO in 2005 for 3.5 years, and again assumed that role in February 2015, leading the company from 2014 sales of $355 million to $926 million in 2016.
Dan says,
"I'm excited and optimistic about Josh taking over the leading role in running the day-to-day operations at WorldVentures Holdings as CEO. Josh's amazing talent, combined with his financial and organizational experience, makes him the ideal choice to lead our company into the next decade.
In addition to his exceptional business acumen, Josh knows the leisure travel and hospitality industry inside and out. As part owner of WorldVentures, I look forward to my new role as business development consultant/owner operator, where I'll be working with our partner/vendors to bring about new opportunities for our members and field representatives. The future is very bright; and the best is yet to come for WorldVentures!"
Prior to accepting his position with WorldVentures Holdings, Josh served as CEO of Rovia, LLC, one of the entities of WorldVentures Holdings. Rovia is an industry-leading travel and lifestyle service provider offering turnkey solutions for business partners and membership-based travel companies.
Additionally, he led the strategic direction of his team as managing partner for Providence Interactive Capital, LLC. He also served as CEO and chief financial officer of CheapCaribbean.com, Inc., the No. 1 U.S. provider of beach vacations in the Caribbean and Mexico. Early in his career, he worked with Fortune 500 companies, and served as vice president of operations for JetPay Merchant Services, LLC. Josh, a CPA, graduated summa cum laude from Texas A&M University with a bachelor's degree in accounting and a master's degree in finance. He is also a graduate of the Stagen Leadership Academy.
"I look forward to the opportunities and challenges this new role will bring,"
says Josh.
"It is a privilege to accept this new role within the Holdings organization, and I am excited to help our talented team further develop and execute strategies to drive WorldVentures Holdings into its next stage of growth."
About WorldVentures Holdings
Headquartered in Plano, Texas, WorldVentures Holdings LLC is the privately held parent company of a diverse family of lifestyle brands, including DreamTrips, WorldVentures and WorldVentures Foundation™.
The company's mission is to create more fun, freedom and fulfillment in people's lives through great life experiences, financial opportunity, personal development and contribution.
The company's products and services offer a spectrum of innovative solutions to empower generations and support the potential and promise of our global community. For more information, please visit worldventures.com, dreamtrips.com and worldventuresfoundation.org.