Mike And Alexis McClenaghan Achieve Blue Diamond Rank At Valentus
September 21, 2017
By Team Business For Home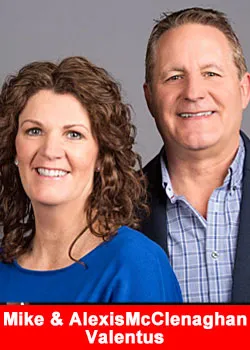 Mike McClenaghan is a traditional business owner who has found an easier way with Valentus. He and his wife Alexis live on Vancouver Island in British Columbia.
As a traditional business owner in the hot tub industry, Mike McClenaghan knew how much hard work is required to keep a business running smoothly. Because of this knowledge he was always interested in the unique benefits of network marketing.
For example, he loved the idea of creating an income stream that didn't require him to shoulder the expenses of a brick-and-mortar storefront, deal with the headaches of managing employees or take on the stress of waiting for your next sale. "In a traditional business, you're only as good as your next sale," Mike says.
"In network marketing, the company has built the infrastructure and created the products. Then they just give you the track to run on. You pay a small fee to start and have a chance to build a six-figure business."
Mike has worked with a few network marketing companies in the past, but never hit his stride until Valentus.  One of the biggest things that drew Mike to the company was the amazing culture built by the corporate staff and top business builders. He loved the universal appeal and simplicity of the product line.
"Weight loss is always going to be a big thing in the world, and I like that there isn't a catalog of 400 products — just a small group of functional beverages," he explains. The products — specifically Prevail SlimROAST and Prevail Energy — have helped Mike drop 30 pounds and find renewed energy.
"I drink coffee anyway, so I might as well drink one that helps me maintain my weight!" he says.
At 61, Mike is able to still play hockey and keep up with his active 13-year-old twin sons, Liam and Max. For Mike, his "why" is his family, and it gives him the motivation he needs to put in the extra hours for his Valentus business on top of his hot tub business.
Three-way calls and Super Saturday events have helped Mike establish his business and team. As Mike and Alexis say, "Teamwork makes the dream work". "In order for me to succeed, my team has to succeed," he says.
Thanks to Mike's Valentus earnings, he and his wife Alexis were able to take their sons on their first-ever family vacation to Mexico this year. "It's not cheap to raise a family these days, but Valentus is helping us with this extra income," Mike says. Beyond vacations, Mike's Valentus income gives him stability. "It's a relief not to worry about something that might come up with our kids or our retirement," he says.
The best part? He's just getting started.  "Network marketing is the business of the future," he says,
"Anyone can be successful at this and I'm so glad I got involved."
About Valentus
In Latin, the word "Valentus" means "prevail," defined as proving to be superior in strength, power, and influence. Recognizing that, we couldn't have picked a more fitting name for a company that strives to be the example in an industry that deserves a leader to follow.
Since day one, our focus, our passion, and our commitment have been to create a company, a product line, and an opportunity built on a foundation of integrity.
From creating significant levels of income, to building strong networks, healthy long-lasting relationships, making new friends, participating in activities you never even knew existed, having the time to do the things you love with the people you love to be with, VALENTUS can help you PREVAIL in ALL of your goals. For more information please visit www.valentus.com