Oriflame Appoints Naveen Anand As Senior Director Regional Marketing
September 26, 2017
By Nicole Dunkley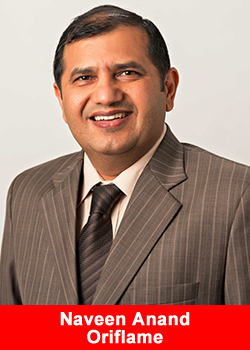 Leading Swedish direct selling beauty brand Oriflame on Thursday appointed Naveen Anand as the Senior Director Regional Marketing South Asia.
In his new role, Naveen will spearhead the operations in India, Sri Lanka and Pakistan and will be responsible for accelerating growth and enhancing the brand equity for the Oriflame business.
The marketing veteran with two decades of experience in the direct selling business was instrumental in building Amway India's business. Naveen has helmed key positions in Amway, and brings with him a treasure trove of valuable insights and experiences.
In his previous role as the Global Marketing Director for Brand Nutrilite, he has worked very closely with various markets such as China, Korea, Japan, Brazil, Mexico, Thailand, Malaysia and markets in Europe.
Naveen has been highly successful in rolling out mass media campaigns for various brands at Amway. During his tenure, Naveen has significantly contributed towards strengthening of global marketing brands both in Amway India as well as across the globe.
"We are delighted to welcome Naveen on board and, will be looking forward to leveraging his extensive knowledge to drive more engagement and give vision and direction to Oriflame's business for its next level of growth in the region.
We are certain that his vast experience and expertise will help the company in scaling new heights," said SVP and Head of South Asia and MD India at Oriflame, Sergei Kanashin.
"Oriflame has established its position as a natural and progressive brand that believes in sustainability. Much of the brand's vital philosophies are reflected in its business success. I am looking forward to working with the team for driving growth and further strengthening the brand," said Naveen Anand on his appointment.
About Oriflame
Founded in 1967, Oriflame is a beauty company selling direct in more than 60 countries. Its wide portfolio of Swedish, nature-inspired, innovative beauty products is marketed through approximately 3 million independent Oriflame Consultants, generating annual sales of around €1.3 billion. Oriflame supports numerous charities worldwide and is a Co-founder of the World Childhood Foundation. Oriflame is a Swiss company group listed on the Nasdaq Stockholm Exchange.