Vasayo Expands To Hong Kong
September 1, 2017
By Team Business For Home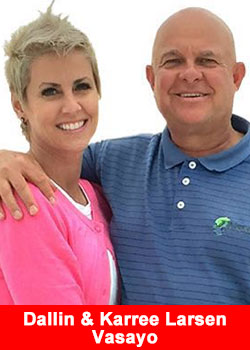 USA based nutrition company Vasayo honored the opening of its international office in Hong Kong, China with a celebratory ribbon cutting event.
In attendance were Vasayo Founder Dallin A. Larsen, Cofounder and President of Asia-Pac Dan Zhu, members of the Vasayo Advisory Board, and other Brand Partner Leaders.
Vasayo executives believe the opening of the Hong Kong office will further the company's mission to transform lives physically, financially, spiritually and socially through the superior delivery of products, opportunity, and community far beyond the borders of the United States.
By delivering exceptional nutritional solutions to regions across the globe, Vasayo aims to build a network of communities with a diverse group of individuals who share similar core values and health-oriented goals.
About the Ribbon Cutting
At 1 p.m. local Hong Kong time on August 8, 2017, Vasayo Founders Larsen and Zhu had the honor of cutting the inaugural ribbon in commemoration of the company's expansion into Asia. The event was held at the five-star InterContinental Hong Kong hotel.
This celebration marked the opening of Vasayo's first international market, and lays the foundation for future expansion and opportunity for Vasayo Brand Partners.
"It's certainly encouraging that only seven months into shipping our first product and just over two months since our Grand Opening in Las Vegas, Vasayo has begun operations in Hong Kong,"
Larsen said.
The team at Vasayo is excited to expand and make a positive impact on new markets by introducing a unique ecosystem of vibrant people, cutting edge science, and experienced team members with a passion for delivering products and ingredients to health-conscious consumers. They look forward to continuing this growth far into the future.
"I have experienced momentum before, and I'm telling you that Vasayo is at the beginning of a wave that I believe will result in blessing the lives of individuals and families all over the world in the coming months and years," Larsen said.
"If you're looking for more out of life, now is the time to begin building your Vasayo business.
It's a business that can take you all over the world, even to the beautiful harbor city of Hong Kong!"