WorldVentures Holdings Earns Six Telly Awards
September 22, 2017
By Team Business For Home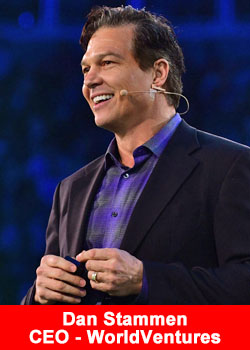 WorldVentures Holdings LLC, parent company of the travel industry's direct-sales leader — WorldVentures — is a six-time winner in the 38th Telly Awards for its "Heart to Serve" video honoring the philanthropy work of WorldVentures Foundation™, the preferred charity partner of WorldVentures Holdings.
The video was named a Silver winner — the highest honor — for Social Responsibility and selected by judges as a Bronze winner in four other categories in the 2017 Telly Awards, which honor films, videos and commercials. In addition, internet voters chose the WorldVentures submission for a Bronze People's Telly.
The award-winning entry was for a video produced featuring the foundation's anthem written and performed by inspirational rapper Princeton Marcellis. Produced by WorldVentures' in-house creative team, most of the video footage was captured at the site of a bottle school in Guatemala. Bottle schools are schools built using "eco-bricks" — plastic bottles stuffed with inorganic trash — to help provide a more sustainable educational infrastructure for communities in need.
"We are honored to support WorldVentures Foundation, as they make a true difference in the lives of children all over the world," said Interim Chief Marketing Officer Deb Bursley. 
"We are especially proud to accept these Telly awards. Our video and creative teams demonstrate both talent and heart and we feel so privileged to work with artists like Princeton Marcellis, who showcased his own incredible talent in writing and performing in the video Heart to Serve video. We are humbled and grateful to accept these prestigious awards."
In addition to the Silver award, the video earned Bronze Tellys in the categories of Not-for-Profit, Directing, and Craft – Use of Music and Craft – Writing. It was also honored with a Bronze People's Telly for Use of Music.
Judging this year's competition was a panel of over 600 industry professionals, each a past winner of a Silver Telly, and a member of The Silver Telly Council. The Silver Council evaluates each entry on its own merit, and not in competition with other entries. Out of 12,000 entries from all 50 states and five continents, less than 10 percent of entries are chosen as winners of the Silver Telly.
View the Heart to Serve video here.
About WorldVentures Holdings
Headquartered in Plano, Texas, WorldVentures Holdings LLC is the privately held parent company of a diverse family of lifestyle brands, including DreamTrips™, WorldVentures and WorldVentures Foundation. The company's mission is to create more fun, freedom and fulfillment in people's lives through great life experiences, financial opportunity, personal development and contribution.
The company's products and services offer a spectrum of innovative solutions to empower generations and support the potential and promise of our global community. For more information, please visit worldventures.com, dreamtrips.com and worldventuresfoundation.org.
About WorldVentures Foundation
WorldVentures Foundation U.S. 501(c)(3) nonprofit organization has a mission to create positive change in the lives of children all over the world. The foundation supports sustainable programs that promote children's health, happiness, safety and development.
Represented by the Heart to Serve logo and tagline, the foundation's mission is accomplished through four main ways: VolunTours, Volunteer Days, Dream Courts™ and fundraising. worldventuresfoundation.org
About the Telly Awards
Founded in 1979, the Telly Awards is the premier award honoring outstanding content for TV and cable, digital and streaming, and non-broadcast distribution. The Telly Awards annually showcases the best work of the most respected advertising agencies, production companies, television stations, cable operators and corporate video departments in the world.
The Telly Awards is a widely known and highly respected national and international competition that receives over 12,000 entries from all 50 states and five continents. www.tellyawards.com