4Life Named Danny Lee As CEO
October 31, 2017
By Team Business For Home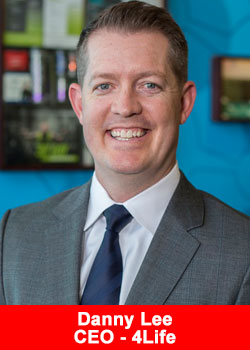 4Life named Danny Lee as the company's new President and CEO.
Steve Tew, who has served as President since 2004 and CEO since 2014, has been appointed Vice Chairman of the Board.
Under Tew's leadership, 4Life has opened offices in more than 20 countries and become one of the largest direct selling companies in the world.
Lee began at 4Life in 2008 as Chief Operating Officer. In 2015, he assumed the role of Chief Marketing Officer. During his years at 4Life, Lee has helped improve 4Life Transfer Factor® quality and manufacturing, executive marketing initiatives, and customer service practices.
Prior to 4Life, Lee worked at Overstock™ as Senior Vice President of Merchandising as well as Vice President of Finance and Controller. Lee graduated magna cum laude from the University of Utah with dual degrees in accounting and finance. Lee and his wife Tara have five children between the ages of 7 and 18.
Tew:
"I have the utmost confidence in passing the responsibility of this office to Danny, whom I've known and worked with closely for many years.
He has continually demonstrated tremendous leadership skills and is one of the most talented individuals I have ever known. Danny is the right person to continue leading 4Life in its mission of Together, Building People."
In addition to other chief executive responsibilities, Lee will strategize new and innovative ways to promote the growth of distributors around the world and continue the company's rich heritage of support for its hundreds of thousands of distributors and customers.
Founder and Chairman of the Board David Lisonbee:
"Steve has many talents and great abilities. Over the past 17 years, he has served as Chief Financial Officer, Chief Operating Officer, and President and CEO.
Bianca and I are immeasurably grateful to Steve for his many years of dedicated service to the company, our employees, and our distributors. We are thrilled that 4Life will continue to be blessed by Steve's keen insights and business acumen in his new role as Vice Chairman of the Board.
We are also confident that Danny will continue 4Life's tradition of leadership and ensure our ongoing prominence in the areas of science, success, and service."
About 4Life
In 1998, 4Life Founders David and Bianca Lisonbee launched the company's flagship immune system support product, 4Life Transfer Factor.
As the first network marketing company to do so, 4Life's leading group of doctors, scientists, and researchers continue to advance immune system science with innovations in product formulation, production standards, delivery methods, and more. Today, people in more than 50 countries enjoy the immune system support of 4Life products.