European OneLife Convention In Portugal Attended By Many
October 23, 2017
By Team Business For Home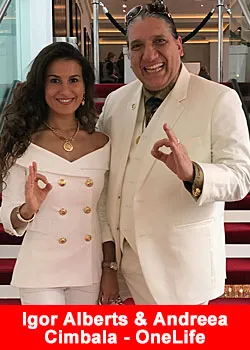 OneLife held the Regional European Event in the Portuguese city of Lisbon. This company convention brought together leaders from several countries for three days of conferences and celebrations.
Igor E. Alberts and Andreea Cimbala, the founders and leaders of the SUCCESS4ALL team, arrived in Lisbon, accompanied by several members of their extensive team. The leaders who travelled to Lisbon for the weekend were especially excited about the arrival of this couple:
both because these are mentors of a number of leaders throughout Europe and from countries on other continents, as well as because it had been announced that each one would present a training session on Saturday.
Anticipation was remarkable, as was the energy and the enthusiasm that Igor, Andreea and other members of their team were scattering on their arrival in Portugal.
It should be noted that, although the event was focused on European leaders, the Caribbean team was also represented at the European regional convention by the Brand New Blue Diamond Anderson Chester and his royal team of Emeralds and Diamonds. There were a lot of prominent European OneLife leaders, Diamonds and Elite Diamonds, such as
Iulian Cimbala, Ilenia Turelli and Luca Miatton from Italy; Dino Bakalis from Greece; Mihail Petrovic from Serbia, Udo Deppisch from Germany, Marian Gregore & Cristi Calina from Romania, Elena Gulevskaya from Russia, Ana Flavia Bittencourt from Portugal/Brazil and Ivan Tzvetkov & Tsoni Goranov  from Bulgaria. Some of them came as speakers at the event, others as participants. The Success4All y OneDreamTeam was heavily represented.
On Saturday, the founding leaders Igor and Andreea offered two spectacular trainings about the importance of believing in oneself and the necessary attitude to be a leader. Trainings highly anticipated by the audience and that were strongly acclaimed when finished. The training sessions of this couple are reputed to be long, but dynamic, as well as highly motivating. And this time was no exception to that rule.
The exciting training sessions and presentations, as well as the follow-up event were featured by impressive speakers.
Worth a mention the Global Master Distributor Sebastian Greenwood, for sharing his vision about the future of OneLife, the current head leader of OneDreamTeam Staffan Liback, for his lecture "You are what you think" transmitting very important concepts, the first Crown Diamond from Vietnam Simon Le, the OneLife Ambassador in Europe Kari Wahlroos and of course the Dutch and English Super Blue Diamonds from the Success4All team:
Bing Voorham, Roald Mailly and Patricia Numan, Dr. Parwiz Daud and Mansour Tawafi. All came as speakers to share their experience with the attendees. Not forgetting the Black Diamond from the UK, Dr. Zafar, who performed a spectacular training session on Saturday.
And at the Sunday event, there was another round of emotions for the speakers and participants. Especially excited were those leaders who were recognized for their Elite Diamond ranks:
Black Diamonds were recognized: Igor E. Alberts and Andreea Cimbala, each of them personally and in a very emotional way. In addition to them, Dr. Zafar from the UK, Staffan Liback from Finland/Thailand and Peter Shaw, a newly honoured Black Diamond, born in Ireland and currently based in the Netherlands, holding a Dutch passport, travelling the world, received their awards.
Both Blue Diamonds and Black Diamonds were congratulated on the stage of the main event and given a Rolex as a sign of distinction.
The leaders were excited about that moment, about the recognition and how the attendees of the event cheered and acclaimed them, more than about the watch. Although they recognize that the Rolex would be some precious souvenirs which they are very proud to have in their collection.