Isagenix Continues European Expansion into Ireland And Netherlands
October 10, 2017
By Team Business For Home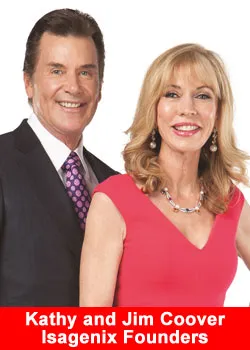 Isagenix International, a global health and wellness company – a Triple A classified opportunity by Business For Home – providing nutrition and lifestyle solutions, announced its expansion into Ireland and the Netherlands with an anticipated launch at the end of 2017.
In March 2017, Isagenix celebrated its 15-year anniversary, surpassing $5 billion in cumulative sales and expanding into the U.K., the most successful market entry in company history. 
"We are thrilled to continue our expansion into the European Union and our internal teams have gathered valuable experience with our launch in the U.K. In addition to offering multilingual support we will be adding local sales talent to support accelerated expansion," said Peter Kropp, Isagenix Europe general manager.
"We have exciting plans to continue growth across Europe over the next two years and we look forward to sharing additional news in the months to come." 
Both markets will be managed from Isagenix European hub in London and product offerings will focus on weight management, energy and performance. Featured products will include the company's popular 30-Day Weight Loss System, as well as IsaLean™ Shake, e-shot™, IsaDelight® for Cleanse Day support, amongst others. 
Recent trends in the EU indicate a high demand for health and wellness products, particularly dietary supplements and meal replacements, within the direct selling channel.1
With a population of around 17 million in the Netherlands, nearly half of all adults are considered overweight or obese.2 Despite that, Dutch consumers are becoming increasingly interested in leading healthier lifestyles consisting of a healthy diet and regular exercise.3 
Much like the Netherlands, current market trends indicate that Ireland is also positioned for growth. Ireland's population of 4.6 million is currently in the midst of a weight crisis, according to the World Health Organization.4 This has led to an increase in government campaigns to promote healthier lifestyles and increase awareness, leading many consumers to begin seeking out ways to help combat the problem.4 
To learn more about Isagenix in the European Union, visit our website at isagenix.com/en-gb and like us on Facebook at Facebook.com/IsagenixUK.
About Isagenix International
Established in 2002, Isagenix provides systems for weight loss, energy, performance, healthy aging, and wealth creation. With more than 550,000 customers worldwide and more than 100 life-changing products, packs, and systems globally, the company is committed to producing Solutions to Transform Lives™.
In 2017, Isagenix surpassed $5 billion in cumulative global sales through an independent network of associates in the U.S., Canada, Puerto Rico, Hong Kong, Australia, New Zealand, Taiwan, Mexico, Singapore, Malaysia, Colombia, Indonesia, and the United Kingdom. Isagenix is a privately owned company with headquarters in Gilbert, Arizona. For more information, visit Isagenix.com.