Patrice Lubino – A Genuine LEO Leader From Guadeloupe – The Caribbean
October 12, 2017
By Team Business For Home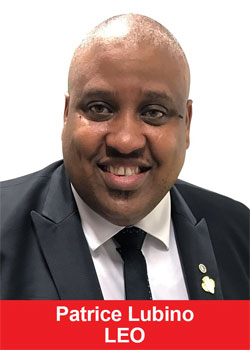 Joining Learning Enterprises Organisation Ltd (LEO), a global entrepreneurship training company, in June 2016, Patrice Lubino has already reached the rank of Executive through sheer hard work and perseverance.
With his positive mindset, this genuine LEO leader has proved to be a daily inspiration to his team in how to succeed. Setting his sights on the very top – there truly is no stopping him now!
Based on the Caribbean island of Guadeloupe, Patrice Lubino really is a great inspiration to entrepreneurs everywhere. Building an impressive global business in just over a year since joining LEO, he still finds time to help his team members achieve success. As a certified neuro-linguistic programming (NLP) practitioner, he is well qualified to offer valuable advice and guidance, and the motivation of his team is of great importance to him.
So, to discover more about this dynamic direct selling professional, Ted Nuyten asked him some searching questions:
Your LEO business has gone from strength to strength in such a short time – what would you say is the secret to your spectacular success?
My secret is to always seek excellence. When I start working on a new venture, I want to know who the number one in that company is, and I tell myself that if they can do it, so can I. So, I have my goal and all that remains is to work hard with my team to succeed until I reach this objective. My philosophy hasn't changed since I was 24 and it has helped me reach the top in all of my projects. Inspired by a quote from George Bernard Shaw, this is: 'Some see the world as it is and ask "why?". I see it as it could be and I say to myself "why not?".'
What led you to join LEO and what is it that you like most about the organisation?
Although I could say LEOcoin, because I am convinced it is the future of digital currency, in reality, what I like most is LEO's affiliation with the DSA [Direct Selling Association UK]. I have been in network marketing for the past 24 years and I have seen plenty of companies on the market, with all their claims and promises, which disappear as fast as they were established.
However, being recognised by the DSA truly shows that LEO is planning on being around for the long term, by adhering to their industry values – I love it! My biggest investment in my work is my own reputation. I do not want to be involved with a company that allows me to make a lot of money and then disappear in 18 months, leaving thousands of people behind suffering. I want to build a success that will last 10 years, 25 years and more, and which allows me to develop new leaders, all with these values!
In addition, LEO's compensation plan is unique. No other compensation plan provides better rewards for teamwork – it offers something new, because LEO is the only company in the world that rewards you on the profit your up-line makes – it's revolutionary!
What is it about LEO that really spurs you on to succeed in your business?
In 24 years, I have seen all four corners of the planet – Brazil, Venezuela, Argentina, Spain, Portugal, Russia. All this I did to learn about my profession, but I was always looking for a company that shares my values and could offer a revolutionary concept. I found all that in LEO, which makes me motivated and determined. What is different is the products – with LEO, I am able to be part of something that is unique in our industry.
Not only did I want to be part of it, but I also knew that I could bring something to it as well. I believe I am now able to be part of the success of a company that will be one of the Fortune 500 Companies – this really motivates me.
You clearly work very hard to achieve such success – how does this fit in with your family life?
I am lucky, I have a wonderful family, with four children – four daughters, including two teenagers. They are my primary source of motivation, alongside my wife, Isabelle Lavéry, who shares this adventure with me. She is a Senior Executive and on her way to becoming a Director. It is rare to see a couple who are both leaders and both work on different contracts with great results. Needless to say, we both want to reach the very top together, and our motivation is to be role models to our teams.
What advice would you give to others who might want to start their own business?
In my opinion, there are three important steps you need to take:
Have a mentor: It is important to find yourself a mentor – someone who will give you advice and guide you to reach your goals. Athletes, artists and business owners are all starting to employ mentors in order to see optimal results in their respective fields.
Duplicate: We can avoid certain challenges if we duplicate proven practices that work. By becoming an expert in duplication, we save time on the wheel to success.
Never give up: Perseverance is a quality that is common amongst successful people. The next door that opens in front of you might be the one leading to your success, but in order to find out, you must persevere.
About LEO
Learning Enterprises Organisation Ltd (LEO) is a global entrepreneurship training company which uses personal recommendation to introduce Members to its products and services. Established in 2012, LEO now has over 250,000 Members in more than 140 countries.
LEO has a unique programme which helps people to LEARN, with the training products it provides, EARN at the same time, by marketing these products, and also has a selection of ownership award programmes that help Members achieve their dream to OWN a successful business. LEO provides full training and support for all its new Members, including a helpful 'Getting Started Guide', which contains an invaluable system to follow to get their businesses off to the best start, referred to as the #LEOSYSTEM.
LEO's core products are designed to help people start their own business – eLearning, Live Seminars and Technology, including the LEO News app, which provides up-to-the minute information straight to your phone, and the innovative Smart 3.0 app, which provides business-building guidance and delivers rewards when milestones are achieved.
However, the LEO Ecosystem does not stop there, as it also includes a digital currency, LEOcoin, a crowdfunding platform, LEOcrowd, and the recently introduced LEO Banking.