Talk Fusion Aims To Cause Radical Shift In Video Communications Market
October 30, 2017
By Team Business For Home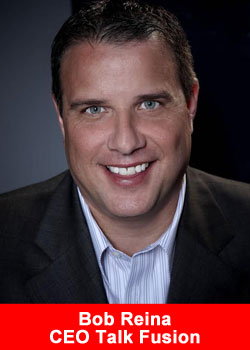 Award-winning video marketing company Talk Fusion is utilizing the communication industry's most disruptive innovation—WebRTC (Real-Time Communications) technology—to forever change the way consumers and businesses host live videoconferences and create and send emails.
 In essence, WebRTC sets a new standard for how people connect, giving users the ability to video chat and message one another directly through the web browser or application without the need for third party plugins. Not only is WebRTC simpler and more affordable than outdated VoIP and cloud-based solutions, it also provides impressively rich audio and video quality, plus a more reliable and secure connection—hence why Talk Fusion feverishly began to adopt WebRTC in its earliest stages.
"WebRTC has been a sort of 'underground phenomenon' in the digital communications universe for the past few years,"
said Talk Fusion Founder & CEO Bob Reina. "When I first heard about it, I knew it was going to be groundbreaking. We became one of the very firsts to dive in and take action, because there is no denying its immense potential to cause a critical shift in the marketplace."
Industry trendsetter Talk Fusion aims to spearhead that movement, and has done so by implementing WebRTC into its diverse Video Suite—including Video Email, Video Newsletters, all-encompassing videoconferencing platform Live Meetings, Video Chat, and more. As a result, Talk Fusion stands as a powerful threat to current multibillion-dollar market leaders.
"From personal experience, I know that disruptive innovations come out of nowhere and drastically shake things up, fast,"
Reina said.
"Companies and developers that wait too long or simply fail to assimilate run the risk of becoming obsolete; it will take a great amount of time for them to catch up. We, on the other hand, are set to take full advantage of this once-in-a-lifetime opportunity."
Talk Fusion recently implemented WebRTC into their unmatched Live Meetings platform, which allows users to schedule, host, and attend high quality videoconferences from their smartphone, tablet, or computer. The company's world-renowned Video Email, Video Newsletter, and Video Chat products are also WebRTC based.
"There is no other company out there that offers the unique products that we do all in one place," Reina said, "and we are about to bridge the gap even more by charging ahead with WebRTC."
The Florida-based company's video products are marketed person-to-person through a highly esteemed direct selling business model, allowing Independent Associates in over 140 countries to benefit from the WebRTC-powered momentum. More information about Talk Fusion's products and business opportunity is available at TalkFusion.comand JoinTalkFusion.com.
ABOUT TALK FUSION
Home of the award-winning Talk Fusion Video Suite, Talk Fusion is dedicated to helping businesses stand out from the competition, increase sales and profits, and keep their customers coming back. Talk Fusion offers dynamic ways to make marketing more engaging, memorable, and persuasive with video.
Talk Fusion's innovative products are marketed person-to-person by Independent Associates in more than 140 countries. 30 day Free Trials of the Talk Fusion Video Suite are available to anyone who wishes to try before they buy—no credit card required—at www.TalkFusion.com.
Established in 2007 by Founder & CEO Bob Reina, Talk Fusion fosters a strong commitment to Giving Back to family, friends, communities, and animal charities across the world. Learn more at www.TalkFusion.com and "Like" Talk Fusion at www.facebook.com/TalkFusion.