USANA Health Sciences Sales Up 3% To $262 Million
October 26, 2017
By Team Business For Home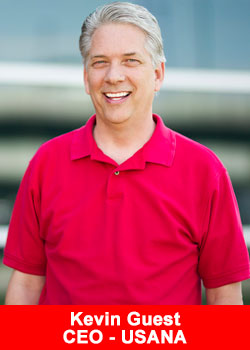 USANA Health Sciences, Inc. today announced financial results for its fiscal third quarter ended September 30, 2017.
For the third quarter of 2017, net sales were $261.8 million compared with $254.2 million in the prior-year period, or a 3.0% increase year-over-year.
There was no meaningful year-over-year impact from changes in currency exchange rates on quarterly net sales. The Company's total number of active Customers increased by 2.4% year-over-year to 563,000.
Net earnings for the third quarter were $23.8 million compared with $30.1 million during the prior-year period, a decrease of 21.0%. Higher SG&A expense and a higher effective tax rate reduced net earnings during the quarter as they have throughout 2017.
Earnings per diluted share for the third quarter were $0.97 compared with $1.20 in the prior year period, a decrease of 19.2%. The expense related to China and the Company's internal investigation into its China operations, which was disclosed in February 2017, negatively impacted the third quarter by approximately $1.9 million and earnings per diluted share by $0.05.
Weighted average diluted shares outstanding were 24.6 million for the third quarter of 2017, compared with 25.1 million in the prior-year period. The Company repurchased 865 thousand shares during the quarter for a total investment of $50.0 million. The Company ended the quarter with $191.7 million in cash and cash equivalents and no debt. As of September 30, 2017, there was $50.0 million remaining under the current share repurchase authorization.
"The third quarter was significant for USANA, not only for delivering record quarterly sales, but because of the accomplishments and announcements we made during the quarter,"
said Kevin Guest, Chief Executive Officer.
"In particular, we celebrated our 25thanniversary at our annual International Convention, where we introduced a new skincare line, Celavive, and announced our plans to expand into four additional European countries. Celavive is formulated with our cell-signaling technology, InCelligence.
Both the launch of Celavive and the rollout of our European expansion will take place throughout 2018. These announcements were well received by thousands of our Associates at our convention and demonstrate our commitment to improving the health of more individuals and families around the world."
About USANA
USANA develops and manufactures high-quality nutritional supplements, healthy foods and personal care products that are sold directly to Associates and Preferred Customers throughout the United States, Canada, Australia, New Zealand, Hong Kong, China, Japan, Taiwan, South Korea, Singapore, Mexico, Malaysia, the Philippines, the Netherlands, the United Kingdom, Thailand, France, Belgium, Colombia and Indonesia.
More information on USANA can be found at www.usana.com.