Wrapshell Alderson Achieves Triple Diamond Rank At Valentus
October 13, 2017
By Team Business For Home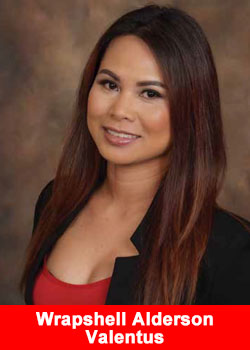 Wrapshell Alderson from  Palo Cedro, California, USA achieved the top rank of Triple Diamond At Valentus, this is what she has to say about her journey:
"The network marketing industry opens an unimaginable universe of relationships.

The personal connections are not limited by borders, ethnic backgrounds, educational attainment, economic or professional status".
A leader in this industry Valentus has created a supportive team of confident, passionate, emotionally open, respectful, disciplined and happy individuals.
I was first introduced to the network marketing industry over 5 years ago while selling Real Estate in California. The products, and services in Real estate and multi-level marketing companies have similar demands and opportunities.
But the opportunities and possibilities with Valentus are by far the most rewarding physically, emotionally, financially, psychologically, and spiritually.
I was offered the opportunity to be an independent distributor for both the Valentus weight loss products and business opportunities in July of 2015. I joined the business a week later.
Within 90 days I reached my personal weight goals. Soon after, I achieved the leadership rank of Diamond and 10 months later, I reached the Triple Diamond level. 
Valentus provided me the opportunity to create an income and standard of life that few businesses can offer.
With Valentus, I have been able to build a business that will continue to provide for myself and my family for years to come.
The support Valentus provided to create a fun, accessible, profitable, and prosperous business was a major contributor to my success. It wasn't difficult to create a successful business when you belong to a company with breakthrough products that delivers its commitments with integrity and passion.
Everyone in Valentus is treated with respect and dignity without segregation based on any factors.  Having a CEO like Dave Jordan who is a man of his word that will fight for you is a huge plus.
Valentus is my vehicle to improve the welfare of humanity with hope, happiness, good health and prosperity".
About Valentus
In Latin, the word "Valentus" means "prevail," defined as proving to be superior in strength, power, and influence. Recognizing that, we couldn't have picked a more fitting name for a company that strives to be the example in an industry that deserves a leader to follow.
Since day one, our focus, our passion, and our commitment have been to create a company, a product line, and an opportunity built on a foundation of integrity.
From creating significant levels of income, to building strong networks, healthy long-lasting relationships, making new friends, participating in activities you never even knew existed, having the time to do the things you love with the people you love to be with, VALENTUS can help you PREVAIL in ALL of your goals! For more information please visit www.valentus.com