Danielle Davies Achieves Double Diamond Rank At Valentus
November 16, 2017
By Team Business For Home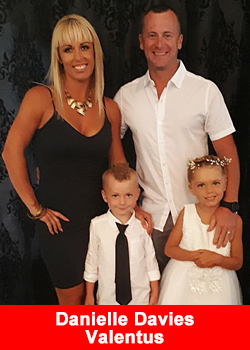 Danielle Davies has achieved the double diamond rank at Valentus.
This is what she had to say:
"It's hard to put so much excitement into a few words and have it flow but here goes!
I heard about Valentus at the end of Aug 2015 from my mortgage broker Gale Tracey (also a Double Diamond). She had mentioned a weight loss coffee that people were having phenomenal results with. Gale had known I was looking for something to help me lose weight as I was tired of feeling depressed and self conscious about myself.
Just a few weeks before that, I was managing my parents retail sports stores and due to unforeseen reasons, we had to close our last store.  This left me out a job.  Just another thing to stress about.
Gale had also mentioned the business opportunity with Valentus, but I had no knowledge or experience in the industry, I shrugged it off and started looking for a job that would work around my 2 young kid's schedules.
I started drinking the Slimroast coffee and managed to lose 13" in the first 3 weeks. People started asking what I was doing and of course I was excited to tell them (not realizing I was actually doing the business, just not getting paid for it).
We then decided to take a 4hr drive up to Kelowna, BC in Oct 2015 for the Valentus 1st Leadership Summit.  I was able to meet our CEO Dave Jordan and so many other top leaders and of course I heard so many incredible stories.
I came home so excited saying, "I can't wait to share this with everyone".  I started sharing my excitement with everyone in person and on social media and absolutely loved seeing so many lives change around me both healthier and financially. I have met so many incredible people and have built up a team I couldn't be more proud of!
With Dave Jordan's vision of wanting everyone to succeed, products that are life changing and my passion to help others I can let others know they don't need to be stick in their current situations.
I never had to go look for that job as I was able to hit our Diamond rank in 6 months, then Double Diamond in 7 months.  I get to work from wherever I like, spend more time with my family, earn a six figure income and I managed to lose 30 pounds and six dress sizes in six months.  Plus …… I feel healthier and better than ever!
I am so thankful for this industry and company coming into my life. It has changed my health, my financial situation and my confidence level and I'm forever grateful!
About Valentus
In Latin, the word "Valentus" means "prevail," defined as proving to be superior in strength, power, and influence. Recognizing that, we couldn't have picked a more fitting name for a company that strives to be the example in an industry that deserves a leader to follow.
Since day one, our focus, our passion, and our commitment have been to create a company, a product line, and an opportunity built on a foundation of integrity.
From creating significant levels of income, to building strong networks, healthy long-lasting relationships, making new friends, participating in activities you never even knew existed, having the time to do the things you love with the people you love to be with, VALENTUS can help you PREVAIL in ALL of your goals. For more information please visit www.valentus.com