Gianvito Ricciardone From Italy Achieves Diamond Rank At Starbit
November 14, 2017
By Team Business For Home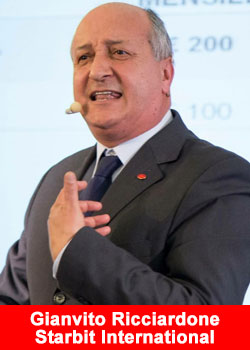 Gianvito Ricciardone from Italy has achieved the Diamond rank at Starbit International, this is what he had to say about his achievement:
What attracted me to network marketing?
Personal growth first, and of course economic results!
When on August 27, 1994, for the first time in my life I attended a presentation of a network marketing company I was impressed by how ordinary people, thanks to this wonderful profession, were able to communicate in a simple and effective way and change their lives. Over time I discovered that this ability came from investing in personal growth.
A sentence that is impressed in me:
"Empty your pocket to fill your head, because one day your head will fill your pocket."
So if I have to find the real key that allowed me to have great achievements in this industry, I can surely find it in being "coachable" from the beginning and always "willing to learn", believing that true wealth is knowledge. My desire to learn and to accept difficulties as an opportunity and challenge to continue growth still makes me feel, as I like to define myself at my age, a "differently young man".
The secret of my success is surely due to the fact that I have never missed an event, both local and national or international.
The many training courses I have attended have forged in me a "problem-solving" attitude.
For sure I consider myself lucky because of the exceptional mentors I met in this journey. I feel a great sense of gratitude, and at the same time, the desire of emulating and try to overcome them. From them I learned that the most important is to lead by example, so my personal slogan became "I to the Nth degree".
23 years in the industry with 3 different important companies with excellent results and I have had the opportunity to get to know many leaders from whom I learned a lot and from whom I have absorbed positive energy like a sponge.
The event that has had a decisive impact on my professional life was a message I received on July 15, 2013 at 22:12 and still hold, after which I had the opportunity to meet two wonderful people, Luana Sicari and Riccardo Vieri, who from the very first moment created a sense of trust for their professionalism and determination, and  with them we built a sense of family and friendship.
When Luana and Riccardo introduced me to Starbit I could but accept the challenge as a real player.
I have done my best since the first moment and this decision has literally turned into a great experience. Now, I am aware that this first achievement, the qualification to the rank of Financial Diamond in the first two months of activity, is only the beginning of a wonderful journey that I can share with my whole  team.
Being a Diamond in a company with such an ambitious and revolutionary mission fills my heart of joy and gratifies me so much; at the same time it makes me feel the responsibility of the role I have. Many people forgot their dreams: many have locked dreams with a double-padlock, perhaps for previous failures or for bad company that hurted very hard and bad.
Starbit is a great opportunity to reopen the box of our dreams: I feel this responsibility, and it's exciting!
What do I like most about Starbit?
The team spirit and the atmosphere of serenity and family that leadership and management transfer to the whole team; together with the brilliant mission to allow people to "learn by doing" in the innovative digital world of blockchain and crypto currencies (that is still unknown to many), Starbit makes it simple and fun to share the business and services with everybody without changing people's habits.
WalkyBit Information App is the key for this revolution: everyone is walking and all have a smartphone! Every customer can try the service for 5 days free! I have never seen such a duplicable business in my entire career!
I love working and expanding the team globally with a plan 100% compliance across the World.
I love the opportunity to work building my dreams together with my team dreams, allowing me and them to reach financial freedom in a short period of time, helping others to improve the quality of their lives, which is the real goal of every leader who is attracted by the real meaning of network marketing.
About Starbit International
Under the wise direction of a group of investors and technology partners, we can rely on a team of experts in various areas ready to support the community, with over twenty years experience in financial management, administration, sales and technological innovation. A professional staff is at your service.
We are committed to selecting everything needed for a person to be informed and about blockchain technologies and various applications, making it easier, in a progressive manner, accessible to all, thus saving time and resources to anyone interested in this area.
The goal is to offer various degrees of knowledge to those who are interested in playing an acting role, without the needing to become experts, like is happening today. Starbit also offers an opportunity to those who want to transform all this into a work from home opportunity.
Starbit uses a compensation plan with 10 different earning centre's, very lucrative and innovative that claims to be full compliance worldwide as there are no fees to subscribe, nothing to buy, and distributors are rewarded only from the sales of services. Customers have the opportunity to benefit from special offers, discounts, promotions, thanks to "bounties" offered by industry operators (third parts operators). For more information please visit www.starbit.com