Igor Alberts Achieves $58+ Million In Life Time Earnings
November 17, 2017
By Team Business For Home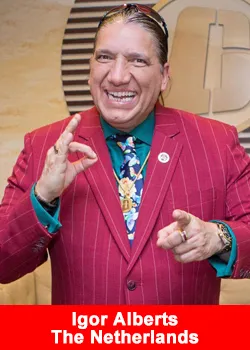 Igor E. Alberts, born in the Netherlands, has recently completed 30 years in the MLM industry. He started his career in the largest network marketing company and after several opportunities finally found his home in the crypto currency market.
But Igor's motivation goes beyond the ranks and figures. He has a lot to say about his current position in the industry, his vision, and his plans for the future:
"My dreams have always been more than about material things. Of course, having a good life where you can enjoy everything you like is something that almost nobody would refuse.
But I've always wanted more, and it's something that over time has become more noticeable, more necessary and more evident.
Since I was little, I dreamt about being part of the great stories of humanity. I wanted to live in person one of those moments that you know will leave a mark in History, create change and shape the following generations.
I have been working in this industry for thirty years now, and in these thirty years, it has always been a great satisfaction for me to be part of it:

it is one of the few spots in this world where one can achieve their dreams, wherever they come from and whoever they are.
Men, women, young or old people, no matter their religion or the colour of their skin. It does not matter if they were successful in the past or come from a well-off or very humble family. None of that matters in network marketing.
You can achieve anything and become the person you were meant to be, only with your effort, your will and desire. I have seen people who thought that the world had no place for them to dream, to find a purpose and change not only their lives, but hundreds and thousands of other lives.
And very different people manage to form great and beautiful families that are their teams.
This is, without a doubt, one of the main reasons that attract me to this business..
I have always liked History. You can learn a lot from it, not only where we come from, but also what we are like and how we can improve. History teaches us about our biggest mistakes as intelligent beings. But, above all, I believe that it teaches us that we are capable of true wonders.
You can also find inspiration in History: you can learn from the story of David and Goliath that you don't need to be big to win, you can learn from the Legendary Leonides and his brave 300 that you can win by losing and that your bold and brave actions can inspire and motivate the entire humanity even many centuries later.
Your example can influence people's lives, and you will be remembered as the one who changed the course of history.
You can learn from Napoleon that victory always belongs to those who is perseverance, you can learn from King Arthur that a team is as strong as the bonds between its members, you can learn from the Viking stories that a Leader's first duty is their own men, as well as not to fear responsibilities or the unknown.
In my love for History, I have reviewed the lives of great leaders: kings, emperors and also those who dared to challenge the established order. Those who created the trend and those who turned it into something else. And I've always wanted to be there, on the doorstep, or sitting at the round table with the knights of King Arthur, riding with Marco Aurelio, seeing the pyramids of Egypt being built before my very eyes.
And I firmly believe that I have managed to fulfil my dream.  I'm doing it right now. I believe that we are creating something that will become part of the daily life of people in 20 or 30 years. And I think that through what we do, I am also closer than ever to creating a legacy of a world that will be better than when I came to it. Through the work that we do, there will be more educated and free people, people who have learned that collaboration and mutual help is vital in this world.
I will have made History simply by taking part in it when it was being written, and by being part of the lives of so many people that I wanted to see become better leaders than me.
This is my dream. Part of it is already being fulfilled, and I know it will continue to be true for decades."