Generic Network Marketing Training In South Africa
December 29, 2017
By Team Business For Home
Reignite Network, an International Network Marketing Training organisation which specialises in generic Network Marketing Distributor Training Programmes, Premium Coaching, Online Educational Courses and High Impact Business Growth Events, has announced that Johannesburg – South Africa will be its first city as part of a multi city Enhance & Evolve 2018 World Tour on 3rd February, 2018.
The Enhance & Evolve 2018 world tour is a series of generic, industry wide Network Marketing training workshops like no other; Bringing together distributors and company representatives across the entire Network Marketing profession.
This workshop provides all attendees with up to date education and techniques which can positively impact the growth of a Network Marketing business, whilst providing a space for the attendees to workshop their knowledge and techniques there and then with other fellow industry professionals at the event.
Reignite Networks Australian Co Founder and master trainer, James Yates, says the name of the Enhance & Evolve workshop really sums up what this event is all about.
 Enhance & Evolve is designed to help all distributors to Enhance their results and Evolve their skills both from a business and personal development aspect. In doing this, we are giving distributors the best possible chance of Rank Advancing and becoming more consistent in developing their teams.'
Says James.
The cold hard fact is that each one of these workshops are unique;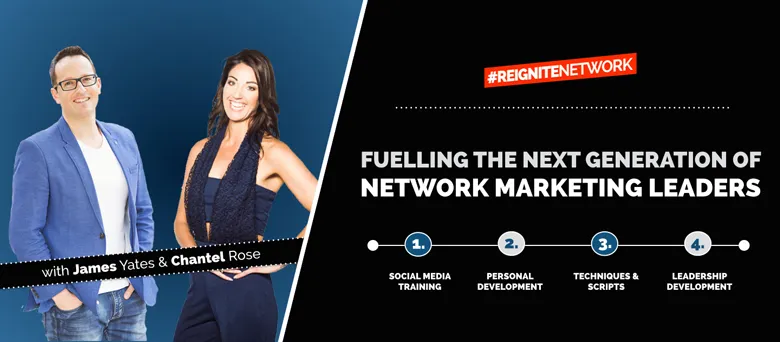 Times are changing so quickly and with technology moving at a pace that weve never seen before, our view is that youre either staying ahead of the trends or youre being left behind, so prior to every workshop, we analyse the market and identify what education makes sense for distributors to learn and apply in the current climate, and we then workshop this information so that distributors know how to use it effectively there and then.'
Held in Sandton, the Johannesburg event will feature a variety of special guests on the day including top Network Marketing leaders, as well as leadership, finance and personal development experts, and it is the first generic event of it's kind to ever hit South Africa.
Attendees can expect to learn:
Tips to help increase the number of enrolments and strategies to rank advance.
Systems to build an organic online following using social media.
Modern day prospecting techniques.
Powerful closing techniques and strategies
Education on The 4 Cornerstones- The foundational principles of Network Marketing.
Leadership development skills
And so much more including information that's relevant to building a strong Network Marketing business in Africa.
Over the coming 12 months, the tour will continue to all parts of the world, with the popular event expected to hit Asia, Europe, Australia and NZ.
For Johannesburg ticket information, or to learn more about this exciting event, you can visit www.reignitenetwork.com/live
About Reignite Network
Developed by Network Marketing Leaders, James Yates & Chantel Rose, Reignite Network provides state of the art training for Network Marketers through online training courses, premium coaching and high impact events that are designed to help Distributors and Direct Sellers all over the world to master the skills that are needed to create an uplift in their business and therefore to help them to become more successful.
Reignites vision is to be a positive force in home based entrepreneurial education all over the world. To be recognised for doing well by doing good.
To help Ignite and Reignite dreams, passions and potential. To provide the most relevant, real and up to date information and resources to support and help grow the Direct Selling and Network Marketing community internationally.
For more information please visit: reignitenetwork.com