Zija Natural Health Revolution Ambassador James McFadden
December 27, 2017
By Team Business For Home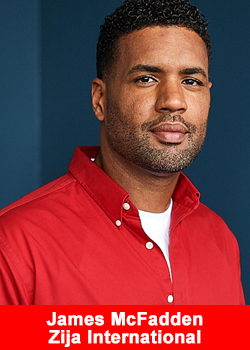 Zija Internationals focus is on embracing the Natural Health Revolution'"the idea that a better life is possible through naturally nourishing, enhancing, and restoring the body.
To help further this cause, the company chose a group of individuals who truly embody the companys mantra, Life Unlimited.
These Natural Health Ambassadors serve in this role for up to one year and receive specialized trainings to hold meetings in various markets across the globe. Ambassador James McFadden describes in his own words what Zijas Natural Health Revolution means to him.
Why did you join Zija International?
Honestly, I joined Zija because my health was in trouble. Someone reached out to me and said they had something I might be interested in. In that meeting, I was introduced to Tom Waggoner. Once I met Tom, I realized that Zija as a company and opportunity must be special to have Tom be a part of it. In an instant, my journey began.
For anyone looking for a home business opportunity, look at three very important things:
Who is behind/leading the company?
Is it structured well, and do the products work and are they high quality
Do they have great leadership in place?
How did you become a leader at Zija and a Natural Health Revolution Ambassador?
If Im being honest, in the beginning it wasnt about becoming a Natural Health Revolution Ambassador or wanting to reach any specific position in Zija. My number one priority was to get better, feel better, and go down the path of a healthier life for myself and my family.
I then became passionate about helping as many people as I could.
For the first time in my life, after being in business for over 20 years, I found a business opportunity that gave me a purpose'"a purpose that was fueled by life-changing products.
What tips do you have for others wanting to become a leader in network marketing?
Understand that the greatest skill you can ever posses is being you. Put people before profit, and be sincere in everything you do. We are not in the selling business, but rather we are in the business of helping people.
Why is the Natural Health Revolution important to you?
Its important to me because I feel personally responsible to get out there and let people know about the Natural Health Revolution. What does it matter if I created a life changing story and have found a true meaning of living Life Unlimited if I dont help others experience the same thing?
What does Life Unlimited mean to you?
For me, living Life Unlimited is being free to live a healthier and better quality of life. It also means financial freedom and giving back to others.
About Zija International
Zija International, a privately held and privately-funded business founded by Kenneth E. Brailsford and led by President and CEO, Ryan Palmer, develops natural health, wellness, and beauty products.
The company operates in more than 50 countries worldwide, pioneering the #NaturalHealthRevolution to help individuals achieve Life Unlimited.
Zija has seen consistent growth every year since it was founded over a decade and has received several awards, including and being named the Fastest-Growing Company in Utah' by Utah Business Magazine.
It has also been recognized on fastest-growing and top-revenue lists by Inc. Magazine, Direct Selling News and Utah Valley Magazine, and has received industry-specific MarComm, American Business (Stevies), and Davey Awards.