Bulgarian Prosecutors Join In Anti-Money Laundering Operation Against OneCoin
January 19, 2018
By Team Business For Home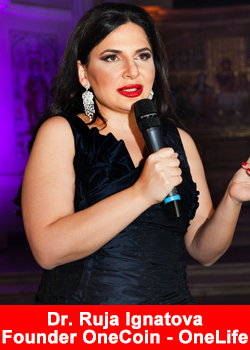 According to an article in the Sofia Globe, a Bulgarian newspaper:
Bulgarias Special Prosecutors Office said on January 19 that it was involved in an international operation to neutralise a large-scale pyramid structure involving commercial fraud, multi-level marketing and money laundering through the creation and distribution of OneCoin.
OneCoin, which has an office in Sofia, describes itself as a virtual currency. In September 2016, it was the subject of a warning by the UK Financial Conduct Authority.
A statement by the Prosecutors Office said that prosecutors and investigators from the Special Prosecutors investigation unit, as well as officers from Bulgarias directorate against organised crime and the State Agency for National Security, were involved in the international investigation.
This was on the basis of an international legal assistance order from the Prosecutors Office in the German city of Bielefeld (North Rhine-Westphalia) which had arrived in October 2017.
Representatives of Eurojust and Europol are actively involved in the execution of the court order, the Prosecutors Office said.
Bielefeld prosecutors had asked the Bulgarian authorities to carry out specific procedural and investigative actions on the territory of Bulgaria vis-à -vis the Bulgarian company One Network Services' EOOD and its affiliates, including two Bulgarian women with German citizenship.
Investigators had identified the location of the servers in Sofia and the service companies used by the international criminal organisation, the Prosecutors Office said.
Prosecutors raiding OneCoin Head Office in Sofia (without sound)
Source: Youtube channel Bulgarian department of Internal affairs
On January 17 and 18 2017, in the presence of representatives of Europol and the German investigative bodies, the offices of One Network Services and 14 other companies were searched.
A lot of material evidence has been seized, including servers, so far, 50 witnesses have been questioned. OneCoin Ltd.' is registered in the United Arab Emirates and operates through hundreds of affiliated companies on four continents, the statement said.
The Bulgarian Prosecutors Office said that in Germany and in other states, the distribution of OneCoin was forbidden.
According to local control bodies, the OneCoins serve as a means of payment, though which local legislation on payment services is bypassed,' the statement said.
It was suspected that organised crime groups and terrorist organisations could be funded through the OneCoin scheme, the Prosecutors Office said.
The statement said that Bulgarian company One Network Services had performed the functions of sales representative for OneCoin Ltd and as a distributor of the virtual currency created by it'.
At present, companies associated with OneCoin Ltd. are being investigated in England, Ireland, Italy, the United States, Canada, Ukraine, Lithuania, Latvia, Estonia and many other countries, Bulgarian prosecutors said.
OneCoin previously described Bulgarian-born Ruja Ignatova as its visionary and founder' and she was its chief executive, although in March 2017, the company said that Ignatova had stepped down from the role of CEO.
The company last posted a press release on its website in August 2017, responding to a statement by the Italian anti-trust commission.
Link to the article: Sofia Globe