Isagenix Appoints Travis Ogden As CEO
January 20, 2018
By Team Business For Home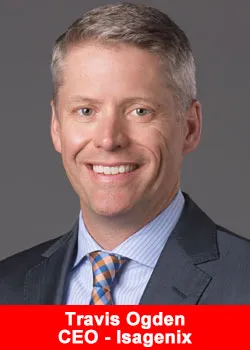 Isagenix International, a global health and wellness company providing nutrition and lifestyle solutions, has announced key executive promotions that position the organization for continued excellence and growth worldwide, including naming Travis Ogden as the companys chief executive officer.
The CEO position was most recently held by Co-Founder and Chairman Jim Coover.
Coover made the announcement at the companys New Year Kick Off event in Phoenix before a sold-out crowd of nearly 5,000 independent distributors.
Im not stepping down or stepping aside, but rather focusing on my duties as chairman of the Isagenix Board while Travis steps into a pivotal role and helps us take Isagenix to the next level,'
Coover said.
Travis has proven himself time and again in the past two years. His strategic leadership has earned not only my respect, but also the respect of our nearly 1,000 employees and the thousands of independent distributors who share our transformational products with customers around the world.

I am confident Travis will be an exceptional CEO.'
Ogden joined Isagenix in 2016 as president and chief operating officer. He has been an integral part of the executive leadership team, helping refine operations so Isagenix can achieve its goal of becoming the worlds largest, most respected health and wellness company. In 2017, the business hit three key milestones: reaching nearly $1 billion in annual revenues, achieving nearly $6 billion in cumulative global sales since inception in 2002, and entering the European market. The company now has operations in 15 countries.
Joining Isagenix nearly two years ago is one of the best decisions Ive made,'
Ogden said.
Ive been so honored to work with the Coover family, who are at the heart of this company. I look forward to continuing to be mentored by Jim while working alongside the other members of our exceptional executive leadership team as we expand our first-class product line and introduce our products to new audiences worldwide, from customers seeking better health solutions to people seeking an outstanding business opportunity.'
In addition to Ogden, the company promoted Travis Garza to president of global sales and marketing and Chantal Chaput to chief operating officer.
Garza has been with Isagenix since 2009, joining the company as vice president of sales for North America. In 2016, he was promoted to chief sales and marketing officer. In his new role, Garza will have expanded responsibilities for domestic and international sales, marketing, and communications.
Chaput joined the company in 2016 as senior vice president of operations. As chief operating officer, she will assume responsibility for day-to-day operations and continue to lead product manufacturing and distribution.
Travis and Chantal have been tremendous assets to the company, earning admiration from their peers, our employees, and our independent distributors,'
Ogden said. Were thrilled for them to assume additional responsibilities. Their leadership will be critical to our success moving forward.'
In addition to these promotions, Erik Coover, senior vice president of global field development, has been elected to the Isagenix Board. He will serve on the board alongside his father, Jim, and his mother, Kathy, who is co-founder and executive vice president at Isagenix. Other board members include Travis Ogden and Jim Pierce.
Erik has done an outstanding job introducing Isagenix to a new generation, and serving on the board will allow him to make an even greater impact on the companys long-term future,' Jim Coover said.
To learn more about Isagenix, visit our newsroom at Isagenix.com, like us on Facebook at Facebook.com/Isagenix, and follow us on Twitter and Instagram at @Isagenix.
About Isagenix International
Established in 2002, Isagenix provides systems for weight loss, energy, performance, healthy aging, and wealth creation. With nearly 600,000 customers worldwide and more than 100 life-changing products, packs, and systems globally, the company is committed to producing Solutions to Transform Livesâ"¢.
Since its inception in 2002, Isagenix has generated nearly $6 billion in cumulative global sales through an independent network of associates in the U.S., Canada, Puerto Rico, Hong Kong, Australia, New Zealand, Taiwan, Mexico, Singapore, Malaysia, Colombia, Indonesia, the United Kingdom, Ireland, and the Netherlands.
Isagenix is a privately owned company with headquarters in Gilbert, Arizona. For more information, visit Isagenix.com.