Nerium International Japan Announces Appointment Of New General Manager
January 4, 2018
By Team Business For Home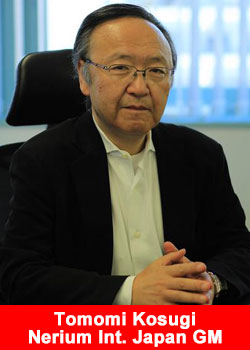 Nerium International Japan, a leading provider of science-based rejuvenating skincare and wellness products, announces Tomomi Kosugi as General Manager.
Since its establishment in 2011 with only one skincare product, Nerium International has achieved record-setting sales, broken various records in the direct selling industry and received many awards.
Since opening in Japan in July 2016, the company has worked hard to expand the business in the Japanese market. Also, following launches in the U.S., Canada, Mexico, Korea, Japan, Australia, New Zealand and Colombia, it opened in Hong Kong in February and Germany and Austria in December.
Before joining Nerium International Japan, Tomomi Kosugi served as the president of companies such as Neways Japan Inc., Unicity Japan and Mannatech Japan and worked in the industry for over 20 years.
On his appointment, Kosugi comments,
Im learning from the best practices of the past and aiming further expansion of Nerium International Japans business in this market. Together with our staff, Ill do my best to have more Japanese consumers use our products.'
Under new leadership, Nerium International Japan will continue striving to meet customers needs and to expand the business in the thriving Japanese market.
About Nerium International
Based in Addison, TX, Nerium International is a global relationship marketing company with age-fighting products crafted from cutting-edge research and science. Founded in 2011, Nerium International has shattered industry sales records while developing a strong customer base in North American, Latin American, Asia-Pacific and European markets.
This unprecedented success has allowed Nerium International to generate $1.5 billion in cumulative sales after six years. Nerium International was recognized for its historic growth by ranking No.1 on the 2015 Inc. 500 List of fastest-growing private U.S. companies in consumer products and services and No. 12 in overall, as well as No. 38 on the 2016 Direct Selling News Global 100 List.
Led by an executive leadership team with vast domestic and international experience, Nerium International is committed to providing an excellent product line based in real science and providing its Independent Brand Partners with a life-changing and outstanding business opportunity through relationship marketing.
For more information, please visit: https://www.nerium.com.