Rodney and Rhonda Allison Achieve Triple Diamond Rank At Valentus
January 12, 2018
By Team Business For Home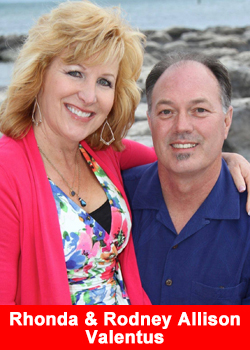 Rodney Allison has been in the jewelry business for decades. Rhonda Allison, in network marketing. Now hes a licensed real estate agent and she owns a womens wholesale jewelry business and formerly owned a womens clothing boutique. Oh, and the pair are newlyweds, too.
Together, power couple Rodney and Rhonda Allison of Lubbock, Texas, are bringing their vast business and sales expertise to Valentus.
The two met online nearly six years ago and were married in March 2016. They joined Valentus in June of that year and reached Diamond status by the end of July 2016. And their network continues to grow, thanks to a laser-like focus.
We decided early to be '˜all in in our Valentus journey,' Rhonda says.
That is the reason we feel we have been able to build a Triple-Diamond business by our fifth month.'
Rodney draws on his experience with four decades in the fine jewelry business, where he managed three stores and owned two.
Rhonda has worked for nearly two decades with network marketing companies. The pair says Valentus products are so needed and useful that they sell themselves.
And the website, Team1training.com, has helped the Allisons easily coach others, even those with little or no network marketing experience. Rhonda says its important to have a simple system thats easy to follow. This allows others to duplicate their success.
You dont get anywhere without your team,' Rodney says.
Success comes from really hard work and dedication, yes. But without a team that is building with you, you dont go anywhere.'
Both say theyve benefited from increased energy and appetite control after using Valentus products. Rhonda says the products have also helped relieve some of her fibromyalgia symptoms.
The couple recently moved into a new home built in a Lubbock pecan orchard, something made possible by their work with Valentus. They enjoy traveling together and spending time with family and friends. They have six grown children between them and have three grandchildren.
Rodney jokes that Rhonda likes to work' when shes not working, but Rhonda says her business relationships make working fun. Adds Rodney,
Your business partners are your family in a sense, and it feels literally like home. Valentus is such a comfortable place to be.'
About Valentus
In Latin, the word Valentus' means prevail,' defined as proving to be superior in strength, power, and influence. Recognizing that, we couldnt have picked a more fitting name for a company that strives to be the example in an industry that deserves a leader to follow.
Since day one, our focus, our passion, and our commitment have been to create a company, a product line, and an opportunity built on a foundation of integrity.
From creating significant levels of income, to building strong networks, healthy long-lasting relationships, making new friends, participating in activities you never even knew existed, having the time to do the things you love with the people you love to be with, VALENTUS can help you PREVAIL in ALL of your goals. For more information please visit www.valentus.com