Zija Natural Health Revolution Ambassador – Joe And Lorelei Tolosa
January 16, 2018
By Team Business For Home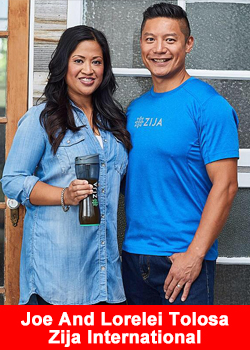 Zija Internationals focus is on embracing the Natural Health Revolution'"the idea that a better life is possible through naturally nourishing, enhancing, and restoring the body. To help further this cause, the company chose a group of individuals who truly embody the companys mantra, Life Unlimited.
Zija International is a Triple A classified opportunity by Business For Home, the top rank.
These Natural Health Ambassadors serve in this role for up to one year and receive specialized trainings to hold meetings in various markets across the globe. Ambassadors Joe and Lorelei Tolosa describe in their own words what Zijas Natural Health Revolution means to them.
Why did you join Zija International?
Prior to Zija I worked in the film industry and also ran a dance company, working as a teacher and choreographer. I made a good living but the 80+ hour work weeks meant my time wasnt necessarily mine. My busy and stressful lifestyle was causing my health to deteriorate'"thats when Zija came along.
I came home and told Joe that I started a business and wanted him to provide my first product testimonial. We had been trying a number of different things to get his health back on track and Zija was that answer!
Why is living a healthier lifestyle and being a part of the Natural Health Revolution important to you?
Its a tandem opportunity to help someone improve their quality of life with simple, natural products that work. It allows people to design their lives and not let it be dictated by circumstances. Through simply sharing our stories we can impact families and communities at a local and global level.
What was your journey like to becoming a Natural Health Revolution Ambassador?
From day one I was fully engaged, committed, and focused on treating this like a business so I was coachable and followed my leadership. Today we can say we are in the best shape of our lives! For Joe, it has rejuvenated his health and vitality so that he can participate at a level of physical activity he never thought possible.
What does Life Unlimited mean to you?
There were so many restrictions in our lives keeping us captive and we didnt even realize it. From not being able to take vacations when we wanted, to completely lacking energy and being dependent on coffee to get through the day, we now live life on our terms'"and its the most liberating feeling.
About Zija International
Zija International, a privately held and privately-funded business founded by Kenneth E. Brailsford and led by President and CEO, Ryan Palmer, develops natural health, wellness, and beauty products.
The company operates in more than 50 countries worldwide, pioneering the #NaturalHealthRevolution to help individuals achieve Life Unlimited.
Zija has seen consistent growth every year since it was founded over a decade and has received several awards, including and being named the Fastest-Growing Company in Utah' by Utah Business Magazine.
It has also been recognized on fastest-growing and top-revenue lists by Inc. Magazine, Direct Selling News and Utah Valley Magazine, and has received industry-specific MarComm, American Business (Stevies), and Davey Awards.