Engineer Muhammad Saleem – A Prominent LEO Leader From Pakistan
February 1, 2018
By Team Business For Home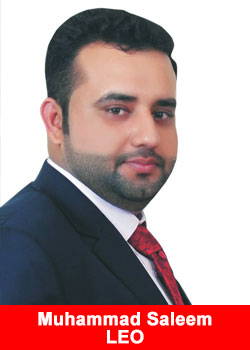 Diligent and determined, Engineer Muhammad Saleem has proven himself to be an outstanding direct selling professional.
Since making the decision to join Learning Enterprises Organisation Ltd (LEO), a global entrepreneurship training company and direct selling organisation, his sheer hard work and commitment has taken him to the impressive rank of Marketing Director. With his positive attitude and provision of invaluable training for his team, the year ahead looks bright for this prominent LEO leader.
With an illustrious background as the former Youth Shadow Minister for Education in the Youth Parliament of Pakistan, a National Youth Award holder from the Government of Pakistan, and a South Asia Gold Medalist for Best Social Worker of Pakistan, Engineer Muhammad Saleem is no stranger to success.
Based in Bahawalpur, Pakistan, Engineer Muhammad Saleem originally joined LEO in 2012, the year the organisation was launched, and quickly achieved Executive rank. However, in 2014, he decided to leave and joined a US-based direct selling company, but rapidly regretted his decision.
Rejoining LEO in March 2015, he started again from the bottom and has now worked his way up to Marketing Director rank. So, to find out what makes this highly successful LEO leader tick, we asked him some questions:
What is the secret to your success with LEO and how has this changed your life?
One of the benefits that LEOs training has personally provided me with is how to stay positive and that is the biggest secret to my success. The second secret is consistency '" I stick with my goals no matter what the circumstances are. Third, and last, is my desire to learn more every day. LEO has made an incredible change to my life. I have achieved lots of dreams and gained the courage to do something great. I also now have the freedom to spend lots of time with my family. However, direct selling is not only about achieving your dreams but its also about helping others achieve their dreams. I have a team of 20,000 people and I treat them all like my family members. It seems like this life is a special gift given to me by God. All of this has only been possible because of LEO.
What inspired you to join LEO and what do you like most about the company?
Back in 2010, before the launch of LEO, I attended some entrepreneurship training given by Dan Andersson, LEO CEO, in Pakistan. Based on his motivating words, it was easy to take the decision to join LEO. The most phenomenal thing about the organisation is the entrepreneurship training it provides via e-learning and live seminars. The direct selling system and all the core products of LEO are totally based upon quality education. This is a mind-blowing idea I had never seen before. With its online products, LEO provides the freedom to expand your business to any part of the world, right from your doorstep. The compensation plan is also remarkable. For the first time in direct selling history, LEO has introduced a reverse matching bonus, which means that you also make money from your upline.
What motivates you to succeed in your LEO business?
LEOs learning model has helped me to learn lots of new things about life, as well as earn and stay motivated. e-Learning, live webinars and seminars are conducted throughout the calendar year across the globe in various languages. Earning is enabled by a strong Ecosystem of products and services, including cryptocurrency and crowdfunding, and new opportunities are increasing day by day. I feel that in order to survive and grow, a company must keep up to date with the latest trends and LEO always offers up-to-the minute opportunities and innovations. I am also lucky enough to work with great visionaries, such as Dan Andersson, Liaqat Ali Khan Magray, Waqas Suhail and Yasin Kahut.
What would be your advice to anyone who wants to succeed in the industry, and what do you think makes a good leader?
It is important that you select a mentor from your upline. In my experience, the majority of people who become successful in this industry do so because they have a mentor. Direct selling is not an overnight get-rich scheme, but requires you to work consistently in the right direction, with positivity, and attend training.  A leader and professional networker should have the ability to guide and motivate team members, inspire respect and confidence, and explain the power of the compensation plan. They should also be an effective communicator who conveys the information needed appropriately. A leader should have a vision, which means not only thinking in the short term, but trying to see the bigger picture. It is also vital that any feedback given should be impartial and objective, while criticism must be aimed at finding solutions.
Finally, what are your plans for the future?
I am planning to conduct an Advanced Leadership Training event for the top 300 leaders in my team, so that I can teach them what I have learned in my past five years in the industry.
About LEO
Learning Enterprises Organisation Ltd (LEO) is a global entrepreneurship training company which uses personal recommendation to introduce Members to its products and services. Established in 2012, LEO now has over 250,000 Members in more than 140 countries.
LEO has a unique programme which helps people to LEARN, with the training products it provides, EARN at the same time, by marketing these products, and also has a selection of ownership award programmes that help Members achieve their dream to OWN a successful business. LEO provides full training and support for all its new Members, including a helpful '˜Getting Started Guide, which contains an invaluable system to follow to get their businesses off to the best start, referred to as the #LEOSYSTEM.
LEOs core products are designed to help people start their own business '" eLearning, Live Seminars and Technology. LEO believes that everything is moving to the mobile platform. In response, LEO has developed apps that replicate its Member Back Office system and Marketing collateral support. However, the LEO Ecosystem does not stop there, as it also includes a digital currency, LEOcoin, and a crowdfunding platform, LEOcrowd.