Isagenix Launches New Mobile App
February 24, 2018
By Team Business For Home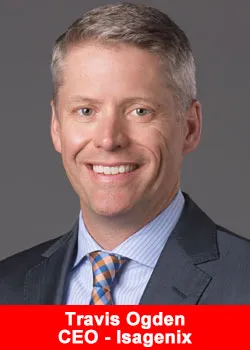 Isagenix International, a global health and wellness company providing nutrition and lifestyle solutions, has launched a mobile app designed to coach customers through their product experience and assist in tracking their progress so they can reach their goals.
The IsaLifeâ"¢ app, which debuted Feb. 8 in the United States, Canada, United Kingdom, Australia, and New Zealand, has already proved popular. In its first 24 hours, it exceeded projected downloads by nearly 10,000, and there were tens of thousands of downloads in its first week of release.
IsaLife is a convenient nutrition and fitness tracker, personal coach, and product-ordering platform for Isagenix customers and independent distributors. Its features include the following:
Goal manager: Users can set goals, take progress photos, track their weight, and view product education videos.
Nutrition tracker: The Daily Schedule allows users to track what they eat using a large database of foods, including popular restaurant meals and all Isagenix products.
Fitness tracker: Users can sync their FitBit tracker to track burned calories and physical activity, or they can manually track calories theyve burned.
Coaching community: Users can share their progress through the activity feed, communicate with their support team through private messages, and receive notifications on their team members progress.
Order management: Users can place orders and manage automatic shipments right from their phones.
Gamification: Users are awarded achievement badges as they track their progress and can share their badges and inspire others to reach for their goals.
The most popular feature so far is the daily goal entry, with more than 100,000 entries.
The IsaLife app is a powerful tool that allows Isagenix customers to connect with each other anytime, anywhere so they can get the support and motivation they need to reach their health and wellness goals,' said Isagenix Chief Information Officer Jon Robinson. It also represents a critical step in the companys journey to provide the best possible digital experience for customers so they can stay engaged with Isagenix for years to come.'
To learn more about Isagenix, visit our newsroom at Isagenix.com, like us on Facebook at Facebook.com/Isagenix, and follow us on Twitter and Instagram at @
Isagenix.
About Isagenix International
Established in 2002, Isagenix provides systems for weight loss, energy, performance, healthy aging, and wealth creation. With nearly 600,000 customers worldwide and more than 100 life-changing products, packs, and systems globally, the company is committed to producing Solutions to Transform Livesâ"¢.
Since its inception in 2002, Isagenix has generated nearly $6 billion in cumulative global sales through an independent network of associates in the U.S., Canada, Puerto Rico, Hong Kong, Australia, New Zealand, Taiwan, Mexico, Singapore, Malaysia, Colombia, Indonesia, the United Kingdom, Ireland, and the Netherlands. Isagenix is a privately owned company with headquarters in Gilbert, Arizona.
For more information, visit Isagenix.com.