QNET announces Sponsorship of Total CAF Champions League, Total CAF Confederation Cup, Total CAF Super Cup
February 27, 2018
By Team Business For Home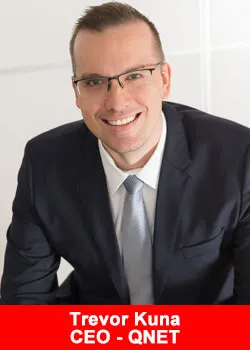 On the side-lines of the Total CAF Super Cup final in Casablanca today, officials of QNET, prominent Asian direct selling company, and the Confederation of African Football (CAF) met to celebrate the signing of QNET as Official Direct Selling Partner to the African Club League championships, namely Total CAF Champions League, Total CAF Confederation Cup and the Total CAF Super Cup.
Through the 2 year partnership, QNET is set to gain visibility and branding at the games of all three club competitions and will be organising on-ground activations to promote engagement with fans and QNETs sales force, the Independent Representatives (IRs).
Trevor Kuna, CEO of QNET, said:
We, at QNET, take great pride in knowing that we have helped create a large number of successful entrepreneurs in Africa over the past few years, and this has in turn played a very important role in our growth in the region.
This partnership will help cement, not only our commitment to our Independent Representatives and customers who have put us on the map as a leading direct selling company, but also our relationship with the continent of Africa as one of our key markets for the future.
QNET is dedicated to helping more entrepreneurs succeed in Africa as we have in many countries across the globe. It is our honour to sponsor these highly-respected championships, and we could not have wished for better partners than the Confederation of African Football to make this vision happen.'
Ahmad, CAF president, commented:
One of our main targets is to build a stronger brand behind our club competitions by making them more and more popular.
We also aim to increase the revenue generated by those competitions, namely the Total Champions League, The Total Confederation Cup and the Total Super Cup. This will enable us to distribute more incentives to our clubs and speed up the club licensing process, which is instrumental and pivotal for the professionalisation of the game on our continent.
So partnering with renowned international companies, such as QNET, confirms that we are on the right track. We perceive this partnership as a sign of trust between CAF and QNET, and also proof of the fact that African Football is a marketable product worldwide'.
Among the benefits, QNET stands to gain strong brand presence at the championship games, TV commercials during half-time breaks, and will be enabled to launch several fan engagement opportunities targeting Football fans through-out Africa and beyond. In addition QNET will host match viewing parties for its distributers and Independent representatives (IRs) in different countries through-out Africa where they will be invited to watch the match on big screens and enjoy exclusive QNET- CAF Competition merchandise.
About QNET: 
As a prominent Asian direct selling company, QNET provides a wide range of life enhancing products that are offered through its proprietary e-commerce platform to customers and distributors in more than 100 countries. The company has over 26 offices and agencies worldwide, and more than 40 stockists, apart from localised operations or franchisees in a number of countries. In the UAE, QNET operates from 3 locations, offices in Dubai and Abu Dhabi as well as a logistics hub in Dubai.
Established in Hong Kong in 1998, QNET is a member of the Direct Selling Associations of Malaysia, Singapore, the Philippines, and Indonesia. QNET is also a part of the Hong Kong Health Food Association, and the Health Supplements Industry Association of Singapore, among others.
QNET is active in sports sponsorships around the world, including football, badminton and more, due to the companys strong belief that the drive, passion, and teamwork of sports mirror those of QNET. QNET is currently the official direct selling partner of Manchester City Football Club (MCFC) and also sponsors three major African Club Competitions , namely the Total CAF Champions League, Total CAF Confederation Cup and Total CAF Super Cup. For more information, please visit the QNET website at www.qn-uae.ae