Starbit Business In Blockchain Information Expanding Worldwide
February 1, 2018
By Team Business For Home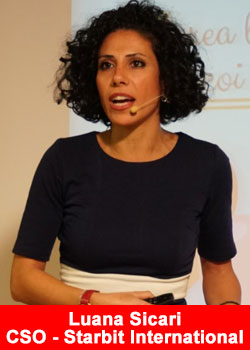 Starbit International with the first revolutionary Blockchain Information project, which allows ordinary people to access knowledge in the world of blockchain, that also includes an innovative App that opens the doors of blockchain to everyone in the world, is ready for the next International Convention in Barcelona.
1 million users is the goal for the next 2 years. It's not just a goal (that should be enough…) it's something great.

I would say it's an "obsession"
says Luana Sicari, Sales Officer at Starbit:
"How can we do less with such a revolutionary project and a service like WalkyBit? It's really simple, and allows everyone to have fun, learn and respect the rules! We have thousands of users walking everyday experiencing what Walkybit can represent for the world, saving energy and giving knowledge to people worldwide. That's the best ride!
And what about an emerging revolutionary compensation plan? Solid, providing incomes short, medium and long term, built around real customer sales of real services that anyone would like to get, with 10 different profit centers that allow talented and experienced leaders to increase their satisfaction levels and "new entries" in the industry, to really have the real opportunity to change their life.
A company where anyone with or without experience in MLM can become successful, building their network and a real stable customer base. It's difficult, and we want to work full compliance worldwide, respecting laws and authorities and having serious entrepreneurs on board.
We have no time for "frogs distributors" jumping from a project to another one, It's always easier to do numbers not respecting the rules. We all believe that great things require efforts, talent and time to stay and this his is the only way to create a brilliant future for everyone.
Moreover the company receive payments and pays commissions in crypto currency. Starting from February 1, all services by customers and commissions to promoters will be paid in Ethereum. This method of payment of commission is a great opportunity for everyone in this market.
Can you see what's going on around us? Sable castles falling down, damaging people, and creating a bad reputation around the industry.
Scams and companies that after years of "successes" are now disappearing or closing down leaving people with nothing in their hands. Those companies are not just taking money to people: they are taking people's dreams. This is very sad and affect our industry's reputation.
Many people are just looking for the next "venture" to just make money, but I am sure there are a lot of incredible colleagues and professionals that are looking for a true home to stay and build for happy years to come.
Starbit is unique: It is built to be here for generations to come. It is built to be always 1 step ahead of any competitor. It is built to write a piece of history in this industry. We work with most brilliant minds of this century to provide new products and services that competitors can only dream.
What's happening in the next future?
In Barcelona in March there will be the First International Convention and Starbit will astonish anyone. All together we will do those things that no company has ever done before. It will be a "different" kind of event. We will have fun!
"The company will launch great updates and new services…We are all so excited…but I cannot say more…or they fire me!!"
What I can say to anyone looking for a home to stay: we are building an incredible future with professionality and integrity…We are looking for new top players around the world: anyone is welcome on board!
About Starbit International
Under the wise direction of a group of investors and technology partners, we can rely on a team of experts in various areas ready to support the community, with over twenty years experience in financial management, administration, sales and technological innovation. A professional staff is at your service.
We are committed to selecting everything needed for a person to be informed and about blockchain technologies and various applications, making it easier, in a progressive manner, accessible to all, thus saving time and resources to anyone interested in this area.
The goal is to offer various degrees of knowledge to those who are interested in playing an acting role, without the needing to become experts, like is happening today. Starbit also offers an opportunity to those who want to transform all this into a work from home opportunity.
Starbit uses a compensation plan with 10 different earning centers, very lucrative and innovative that claims to be full compliance worldwide as there are no fees to subscribe, nothing to buy, and distributors are rewarded only from the sales of services. Customers have the opportunity to benefit from special offers, discounts, promotions, thanks to bounties' offered by industry operators (third parts operators).
For more information please visit www.starbit.com