Tupperware CEO Rick Goings Steps Down
February 22, 2018
By Team Business For Home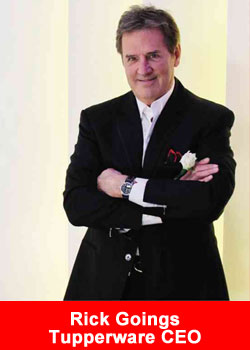 Tupperware Brands Corporation (NYSE: TUP), executing on its planned succession process, announced today that its Board of Directors elected Patricia (Tricia) A. Stitzel to the position of President & Chief Executive Officer and nominated her for election to the Company's Board of Directors, effective May 9, 2018. E.V.
(Rick) Goings will serve as Executive Chairman and focus on the successful transition and leadership of the Company's purpose-centered initiatives.
Stitzel has served as the Company's President & Chief Operating Officer since October 2016. Prior to this role, she served as Group President, Americas, and in leadership positions of increasing responsibility in Europe and the United Statessince joining the Company in 1997.
Goings has led the Company since 1992 and has served as its Chairman and Chief Executive Officer since 1997.
Commenting on her new role, Stitzel said, "I am grateful to the Board of Directors for its trust and confidence, and I am excited to lead this great Company into the future, supporting our important global purpose and executing on our strategic growth initiatives.
With our high-quality and innovative products, dedicated sales force of over 3 million people and experienced global leadership team, we are poised to build upon our strong foundation in capitalizing on new and exciting growth opportunities.
I thank Rick for his leadership, mentorship and friendship and look forward to his guidance as Executive Chairman through the transition."
Kriss Cloninger III, the Company's presiding director of its Board of Directors, said, "The Board is delighted to elevate an executive of Tricia's caliber to serve as President & Chief Executive Officer, as we have great confidence in her 20-year proven track record of success in building high performance teams and delivering sales and profit growth.
The Board is also grateful to Rick for his strong leadership and tireless commitment and is pleased that he will continue to play a key transitional role as Executive Chairman.
Rick established Tupperware as a free-standing, publicly-traded company in 1996, modernizing product offerings and expanding its portfolio.
His more than twenty-five years of leadership has transformed Tupperware into an international brand that provides life-changing opportunities for its global sales force."
Goings said, "It has been a true honor to lead Tupperware Brands and I am proud of what we have accomplished for our stakeholders, especially for the women and men around the world who are part of our sales force.
I look forward to transitioning the role to Tricia, who has demonstrated strong leadership abilities for the current and future needs of the Company. As Group President, Americas, she led this critical portfolio to new and impressive levels of growth. She is the right person to lead Tupperware Brands into the next era, reinforcing Tupperware's purpose of empowering women through economic opportunity."
About Tupperware Brands:
Tupperware Brands Corporation, through an independent sales force of 3.2 million, is the leading global marketer of innovative, premium products across multiple brands utilizing social selling.
Product brands and categories include design-centric preparation, storage and serving solutions for the kitchen and home through the Tupperware brand and beauty and personal care products through the Avroy Shlain, Fuller Cosmetics, NaturCare, Nutrimetics and Nuvo brands.