Bill Ackman Losing His Bet Against Herbalife
March 1, 2018
By Team Business For Home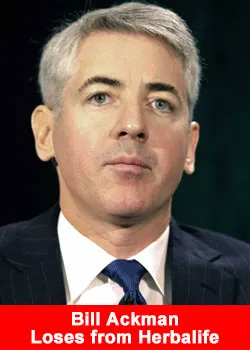 Bill Ackman's Pershing Square Capital has exited its Herbalife bet five years after his on-air verbal brawl with Carl Icahn on CBNC.
Ackman told CNBC's Scott Wapner on Wednesday in a phone call that he had unwound the position. Herbalife shares jumped 9 percent to an all time high on Wednesday.
The activist investor had placed a massive bet against the nutritional supplement maker he accused of running a pyramid scheme. He expected the shares to fall to zero, enabling him to profit on his short sale of the stock.
But the bet proved disastrous. Last November, after Herbalife shares had climbed 51 percent for the year, he announced he had closed out the short position he had in the shares and converted it into a bet using put options.
The Icahn-Ackman fight happened on Jan. 25, 2013, while Ackman was being interviewed by telephone by Wapner. Ackman was responding to attacks by Icahn the previous day over Ackman's claims that Herbalife was "a well-managed pyramid scheme."
Icahn called in to the show, saying "Ackman is a liar" and that he had "one of the worst reputations on Wall Street."
"I've really about had it with this guy," Icahn said. "He's like the crybaby in the schoolyard."
Business Insider labeled it "The Greatest Moment In Financial TV History." The two made up a year later.
About Herbalife:
Herbalife is a global nutrition company that has been changing peoples lives with great products since 1980. Our nutrition, weight-management, energy and fitness and personal care products are available exclusively to and through dedicated Herbalife Independent Members in more than 90 countries.
We are committed to fighting the worldwide problems of poor nutrition and obesity by offering high-quality products, one-on-one coaching with an Herbalife Member and a community that inspires customers to live a healthy, active life.
We support the Herbalife Family Foundation (HFF) and its Casa Herbalife programs to help bring good nutrition to children in need. We also sponsor more than 190 world-class athletes, teams and events around the globe, including Cristiano Ronaldo, the LA Galaxy and champions in many other sports.
The company has over 8,000 employees worldwide, and its shares are traded on the New York Stock Exchange (NYSE: HLF) with net sales of $4.5 billion in 2015.