Top Leader Tommy Wyatt Joins Legacy Direct
March 15, 2018
By Team Business For Home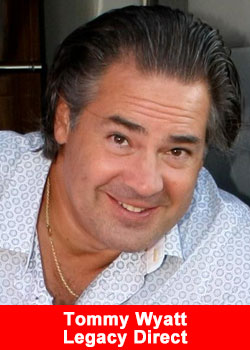 Legacy Direct, a streaming media and technology company, has successfully entered into the network marketing arena.
Founded by CEO Christian Rosario, Legacy offers a variety of home entertainment tech products with its flagship product, the BTVi3.
The BTVi3 is the worlds premier streaming media device that allows you to stream live television, sports, movies, TV shows, international programming, and more directly through Wi-fi, without the need for a cable TV provider.
After acquiring 40,000 customers in its first two years through a Direct Sales model, Legacy brought in seven-figure network marketing star Tommy Wyatt to head up the field and shift exclusively to MLM.
Ive made a 20 year career in this profession, and never before have I seen an easier product to talk about,'
said Wyatt.
I know every company says that, but people absolutely hate paying a cable bill, and the minute they see this device they want one. I believe were set for a run similar to the one Excel Communications made back when they deregulated the long distance telephone industry in the 90s.'
Legacy manufactures all of its own products (including sound systems and ear buds), and also offers its own private broadcasting network called B-Vision.
Its a unique opportunity for me to be able to broadcast live opportunity meetings and training events,'
Wyatt said.
And not only that, we give others the ability to have their very own channels and produce their own content as well – for free.'
Legacys products are fully FCC compliant. They work anywhere in the world but, for now, the opportunity to become a distributor is available only in the United States and Mexico.