Top Leaders Jeff and Belinda Burnett Join Modere
March 15, 2018
By Team Business For Home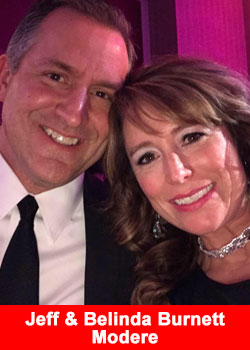 As they bring their unique brand of passion to Modere, Jeff and Belinda Burnett of Lubbock, Texas, USA are setting out to duplicate and even exceed what they built as top leaders with their previous company.
The Burnetts have a special heart to show the industry '" and the world '" that its possible to reach the highest echelons of success in this business, and still put marriage and family first.
When we began building at our prior company, we didnt know anything about the industry,' Jeff admits. All we knew was that if we brought our 15 years of previous business experience with us, treated people with respect, and put all of our focus on helping others succeed, we would be successful.'
Indeed, within six short years, the Burnetts successfully achieved the highest rank in their previous company and earned more than $2 million.
But their greatest accomplishment? The numerous success stories they helped create within their organization. And its a priority that Jeff and Belinda bring to Modere as well.
There are times in business when you make decisions for the good of your team and your family,'
said Jeff, when asked about the transition.
We believe Modere is disrupting the industry with the Social Retail model. We wanted to partner with a company that has their eye on the future and put our team in a position where they can win.
We are very excited about the future and our new partnership with Modere,' Jeff added. We are excited to create new stories of success for our team.'
Its clear that this industry has been a blessing to the Burnett family, and so many other families whove chosen to partner with them.
Other captains of the industry accompanying Jeff and Belinda in their move to Modere include Troy and Denay Hounshell, Mike and Lisa Dyal, Patrick and Denise Lauren, Gino and Michelle Brannan and industry gurus, Dr. Jason White and Rob Moffitt.
About Modere
Modere offers a category-leading portfolio of live clean lifestyle essentials including beauty and personal care, health and wellness, and household products that are equal parts safe, high-performing, and beautifully designed. At Modere, we create more than just products; we create meaningful experiences.
We believe modern health involves live clean: pure nutrition, a clean environment, and safe ingredients across all products: consumable, topical and household. Modere brings a holistic approach to well-being and its products reflect a commitment to excellence and innovation, with tested formulas proven around the globe for 30 years. Modere is headquartered in Springville. Modere is a proud supporter of Vitamin Angels.