World Global Network Announces Key Organisational Changes
March 6, 2018
By Team Business For Home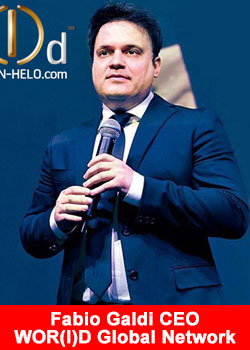 Wor(l)d Global Network (WGN) today announces a reorganization within its Global Sales & Marketing operations.
Douglas C. Robinson has been hired as WGNs Chief Sales & Marketing Officer, effective immediately. Mr. Robinson joins WGN from Mednua Corp, where he was CEO.
Coincident with this new appointment, Antonio De Rosa will move to World Technology Corp as its Senior Vice President of Design & Branding, allowing him to dedicate his focus and efforts on the design of Wor(l)ds amazing product line as well as managing Wor(l)d branding worldwide.
Mr. Robinsons 30+ year career has been spent almost entirely in the healthcare sector. He has held senior strategic healthcare consulting and practice management roles with PriceWaterhouseCoopers and Deloitte Consulting, as well as senior operational roles within United Health Group.
More recently, over the course of the last 12 years, he has been CEO of three different companies, WorkWell Systems, Inc., LifeVantage Corporation and Mednua Corp.
Mr. Robinson is a seasoned executive who has sat on numerous public and private corporate Boards, and has served on a number of different industry related Boards, including the Direct Selling Association in the US, and the World Federation Direct Selling Association, internationally. He is currently the Chair of the Healthcare Committee for the CEO Connection.
 I am looking forward to working closely with Fabio Galdi and his leadership team on successfully scaling World Global Network for prosperous and sustainable growth throughout all of the various markets the company currently serves, as well as all the markets we are yet to enter.'
Mr. Robinson went on to say The WGN value proposition is absolutely unique, not only in the wearable technology space, but also in the Network Marketing space. Combining the companys unparalleled long-range vision with excellent operational execution will create an incredibly valuable opportunity for our distributors.'
Fabio Galdi, WGNs founder and CEO added,
I am excited to have Doug join us in this key role. Not only does he have a wealth of experience as a corporate executive in both public and private organizations, but he is also one of the most respected senior executives within the Network Marketing industry.
World Global Network is a young company, but despite being only a few years old, weve grown tremendously fast. Doug will bring us much needed discipline and structure within our Sales & Marketing areas to consolidate our position, to secure the many opportunities we have before us today and build one of the strongest value propositions within the Network Marketing space.'
About Wor(l)d Global Network
With its headquarters in Singapore and its US office in Miami, Florida, USA, Wor(l)d Global Network stands apart as a fast-growing company and a leader in the Network Marketing Industry. In its 15 offices distributed across the globe, WGN employs the brightest minds, the best professionals and motivated personnel to drive its business and create sustainable and valuable opportunities for its distributors worldwide.
Using innovative products and a proven, direct selling business model, Wor(l)d Global Network helps its distributors around the world to transform their lives, and their familys livelihoods. For more information please visit www.worldgn.com.