WorldVentures Brings Training Event To Penang Malaysia
March 13, 2018
By Nicole Dunkley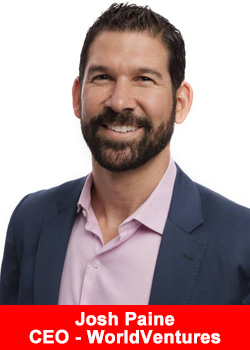 WorldVentures, the leading direct seller of global travel and leisure club memberships, drew exceptional attendance at Momentum, a major training event in Penang, Malaysia, from March 2-4, 2018. Momentum brings WorldVentures Independent Representatives together from all over Asia to build leadership skills and boost team collaboration while celebrating strength and diversity.
In his State of the Union address, WorldVentures Holdings President and Chief Strategy Officer Eddie Head focused on the companys plans for 2018. We are already the fastest-growing travel club in the world,' Head said. But we can be better. We can give you more. We can give you more value, more features, more benefits, more perks, more points '¦ more! The year of renewal and change is afoot, and weve just begun.'
Highlights of the event include:
Chief Executive Officer Josh Paine delivered an inspirational keynote, sharing valuable business lessons hes learned throughout his career. Transformation can occur when awareness and courageous action meet,' Paine said. We arent here to be a business, were here to change lives.'
Roviaâ"¢ President Jim Menge described how DreamTripsâ"¢ is offering more options on trips, more room choices and more excursions, with new ways for members to save coming soon.
WorldVentures Foundationâ"¢ celebrated the communitys Heart to Serve, having served thousands of children worldwide in 2017.
In addition to providing incomparable training for Reps, WorldVentures events positively impact local economies through increased hotel, dining and activity spending. Momentums 2,400-plus attendees stayed an average of three nights for the event. According to Budget Your Trip, visitors to Malaysia spend an average of 255 Malaysian ringgit per person, per day, making an overall financial contribution of around 612,000 Malaysian ringgit to the local economy during the weekend of the event.
WorldVentures Foundation, the companys charity of choice, also plays a part in helping underserved children in local communities by hosting a Volunteer Day during the event. During Momentum, the foundations group of 30 volunteers worked alongside the Cerebral Palsy (Spastic) Childrens Association of Penang, an organization empowering children and young adults with cerebral palsy to develop independence, confidence and self-esteem, helping them achieve their full potential. The volunteer group painted and drew a mural in the facility, in addition to decorating cupcakes for the children.
About WorldVentures
WorldVentures is a privately held company based in Plano, Texas, that sells travel and lifestyle community memberships providing a diverse set of products and experiences. The companys goal is to help Independent Representatives, DreamTrips Members and employees achieve more fun, freedom and fulfilment in their lives. WorldVentures uses the direct sales model to go to market with active Representatives and members worldwide.
About WorldVentures Foundation
WorldVentures Foundation is a U.S. 501(c)3 nonprofit organization with a mission to create positive change in the lives of children all over the world. The foundation supports sustainable programs that promote childrens health, happiness, safety and development. Represented by the Heart to Serve logo and tagline, the foundations mission is accomplished through four main ways: VolunTours, Volunteer Days, Dream Courtsâ"¢ and fundraising.