Global Wealth Trade Rebrands As Opulence Global
April 4, 2018
By Team Business For Home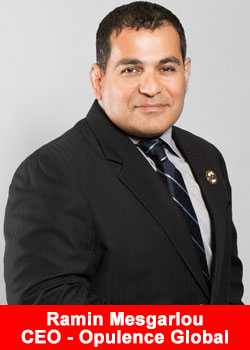 Established in 2005, Global Wealth Trade (GWT) was founded by MLM legend and The Forensic Networker and proud canadian Ramin Mesgarlou.
Right from the start the company was different and focused on providing affluent lifestyle for all.  The company focused on fashion, jewelry and accessories from super economical all the way up  to super luxury.  The company was highly successful and created state of art designs that won scores of trade and business accolades and awards in the first decade.
GWTs luxury brand FERI, attracted hundreds of celebrities and dignitaries and the luxury brand was now being recognized as one of the most prestigious fashion houses in the world.
BFH has been following GWT Corp since 2010 and has placed GWT Corp as an AAA+ rated company every year.  So why rebrand after twelve years of success? We ask that question to the Founder & CEO Ramin Mesgarlou.
Ramin good to chat again, so why rebrand a successful story and track record?
We are different company today than we were in 2005 when we first launched with just high-end jewelry. As a matter of fact we are a completely a different company today than we were even a year ago before the introduction of our professional grade, multi-patented anti-aging skincare systems and our super antioxidant scientific breakthrough, all natural supplement called The Fountain Of Life. So the rebrand was necessary to represent whom we are today as an exciting and innovative company operating in all three-product verticals fashion, health & beauty.
Lets talk about Opulence Globals marketing focus first.
Ramin: True to its name, Opulence Global compensation plan has many unique perks that focuses not so much on the money that can be earned but on Opulent lifestyle like luxury travel such as private jet charter, exotic cars, exotic vacation and of course luxury fashion  etc. Hence we call our partners Lifestyle Promoters,  Advisers and Directors.
In fact our mission statement is:
Opulent living is no longer exclusive only to the most privileged; we provide an opportunity for everyone to achieve generational wealth.

"If you have the WILL, we have the WAY! "
We want to be known as the company that offers opulent lifestyle automatically from day one that you become our partner and not something you have to build over time. Of course its not just lifestyle we offer, there is a comprehensive 4 million dollar compensation plan earning potential per year that goes along with the instant lifestyle 🙂
So how is it going? I am sure there are CEOs in MLM that are thinking the same right now to rebrand their company .. some companies have already and gone on to become large successful companies. , what is your advice to the CEOs that will read this interview?
Just one advice, make sure you have a good reason to rebrand because it took 8 exhausting months to do ours 🙂 But when its done right, the energy is something I have never seen in almost three decades in MLM.
Ramin, please explain the process of what a real rebrand is like vs. some companies that just change the name and compensation plan.
What we did was a through and through rebrand that upgraded every component of what was already a very comprehensive & successful business model.
First we started with the product line by adding the industrys first PROFESSIONAL GRADE anti-aging skin systems with 106 patents awarded to its premium grade ingredients. We were probably the last to get in to the anti-aging market and that is because over the past 12 years we have built a very prestigious & recognized brand in FERI so if the skincare regimen was going to bare the FERI Swan logo, it had to be professional grade' that beats the spa quality.
We released a brand new compensation plan that focused on one thing and that is attainable Opulent Lifestyle within the first 90 '" 120 days aside from the compensation plan. This is a new revelation in MLM compensation plan where optimum lifestyle can be reached even before you develop a large organization. The path to success in MLM is a long one so we wanted to make the path more comfortable and a lot more fun. I believe this is what MLM was meant to be.
We reduced our fashion house retail pricing by as much as 55% to increase retail sales significantly. Of course this also fuels our partners quest of achieving the opulent lifestyle they seek much quicker with their dream designer fashion goods.
The last and the most significant addition that has completely changed our company focus and culture was the recent release of the worlds most potent all natural super anti-oxidant breakthrough The Fountain Of life. I have to admit, its tough to see how quickly we have gone from a prestigious & award winning fashion house to becoming one of the most serious health & wellness companies operating today because of this one product. It was evident this product will take over our company because of 22 years of extensive clinical tests, its multiple patents and mostly the quick astonishing results. But I never anticipated how fast the Fountain Of Life would spread globally in just 8 weeks since its release.
This is different because I have known you for a long time Ramin and you never wanted to be a health & wellness company, which is surprising since you were a professional athlete.
You are right Ted but my issue was not heath & wellness, it was the way it was marketed by some companies. That said, you are right, I am shocked how quickly The Fountain of Life has taken over our company in all 206 countries we sell to.
All in all The Fountain Of Life high performance anti-oxidant supplement has become and will be the lead product in Opulence Global because of its quick effectiveness, price and simplicity but the anti-aging skin systems and fashion will be the strength of our monthly re-order retention as there are many dream items on the wish for the partners to choose from.
For more information please visit www.myopulence.com and www.fol.one